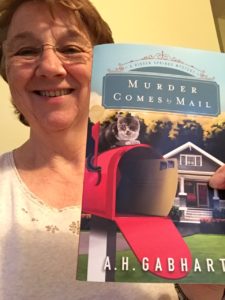 With a book titled Murder Comes by Mail, you might think I should be a little hesitant to open any package that lands in my mailbox or by my front door. LOL. But instead when it's almost time for one of my books to release, I'm ready to rip into any package that has my publisher's name as the return address. And that's what I did Friday when Oscar barked to let me know the UPS truck was here and I opened the door to find a padded envelope there on the deck.
I wasn't sure it would be my book since it's still a month until it's scheduled to be released, but I was glad when this pretty new book slid out of that package. I know people are going to love the blue-eyed cat on top the mailbox. That's Grimalkin. She's Aunt Lindy's cat and possesses a bit of an attitude. But then, most cats do! Oscar would say so although he's never had the chance to make friends with a feline. He does chase them up trees if we happen across them out in the fields on our walks. Thank goodness, those cats can climb fast!
While it might not be quite the thrill that first book was all those years ago in 1978 or even as exciting as Scent of Lilacs, my first inspirational novel in 2005, it is still fun to see my story all printed out and dressed up in a pretty package. Very fun! Do I look happy? Now I have to sit back and wait to see what everybody else has to say, starting with my husband who began reading it today. He's sweet to read my stories, but then he put it down to watch television!! Oh well, I guess he had to rest his eyes. 🙂
Scavenger Hunt – Starting Friday, April 22, 2016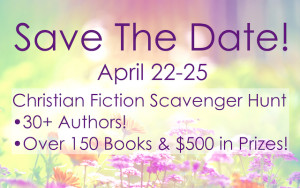 This is going to be so much fun for me and for you too if you take part. On top of the fun of the hunt, you could win some really neat prizes. Over 30 authors will be taking part and besides the great grand prizes for doing the Scavenger Hunt, you will have plenty of opportunities on the authors' blog posts to win extra prizes. I'll be giving away a copy of Murder at the Courthouse and a Willow Tree "Thank You" figurine. That's to thank all of you for reading.
The way it works you start at Stop #1. That link will be evident on all the participants' posts, including mine, so that you can start at the beginning hunting the clues. Along with that important clue, each stop will have an original post by one of the authors along with information about one of that author's books. Then you enter the main giveaway at the last stop. The posts will go live early Friday so the fun will start then.
Speaking of Winners
I didn't have much response to my offer to give away e-book copies of Scent of Lilacs, so both Darlene and Donna's friend will get a free download. But, since I promised to give away 5 books, I picked 3 winners of the print books. Margie J, Judy S, and Karen's sister. I'll be in touch, guys, to get your addresses.
As always, thanks for reading. Have you ever been on a scavenger hunt?