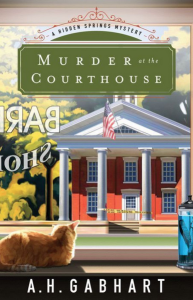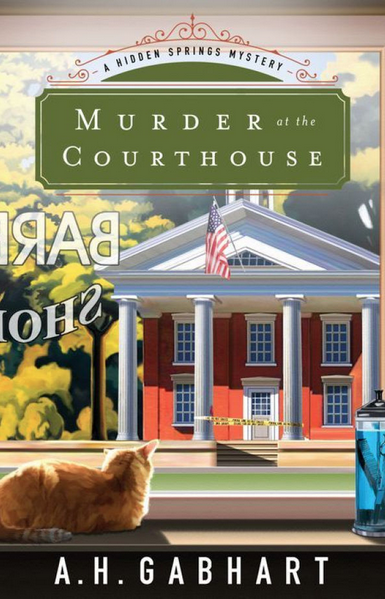 Scent of Lilacs E-Book Sale
Last Sunday I told you Scent of Lilacs is on e-book sale until the end of the month and offered a giveaway. You can still get in on that by leaving a comment. I know some of you already have that first Hollyhill book, but if you don't, now's a good time to get it if you like to e-read. I'm even giving away five copies of the e-book and a paper copy to boot. If you do have the book and want to give an e-reading friend a chance to visit Hollyhill, just leave a comment that you'd like to send it to a friend, and then I'll get in touch with you to get the necessary info.
More E-Book Sales
But not only is Scent of Lilacs on e-book sale this month, so is Hidden Springs mystery #1, Murder at the Courthouse. Right now it's $2.51 for an Amazon Kindle download. That's to get you ready for Murder Comes by Mail that will release in about a month. I should get my copies soon and then I'll send out a newsletter with a new giveaway. So be sure to sign up to get my newsletter so you can be the first to know what prize I'm offering. I'd tell you now, but I have no idea. May have to go with gift cards. But before that, I'm going to be having fun with a Christian Fiction Scavenger hunt with really remarkable prizes. More about that on Sunday. The Scavenger Hunt starts next Thursday, April 22.
Anyway, to celebrate Murder at the Courthouse being on e-book sale, I decided to share a bit out of the story. You can already see the first few pages of the story on my website. Here's a scene featuring Miss Willadean Dearmon again.
Scene from Murder at the Courthouse
"Any other calls?" Michael asked.
"Just Miss Willadean. She wants to know if it's safe for her to come to the courthouse," Betty Jean said.
"What did you tell her?"
"What do you think? That the brave and mighty Deputy Sheriff Keane would be in soon, and she had absolutely nothing to fear." Betty Jean lowered her paper and looked across at Michael, her eyes suddenly serious. "You don't think she does, do you?"
"Of course not," Michael said quickly. "It's probably the way Buck says. Some kind of domestic quarrel that just happened to come to a head here in Hidden Springs."
"On the courthouse steps?"
"Maybe the wife decided on a more final separation. Who knows?"
"Not you obviously." Betty jean turned her attention back to her paper.
Michael looked at his watch. It was almost nine. "Did Miss Willadean buy it? Is she coming?"
"I guess we'll know in a few minutes," Betty Jean answered without looking up.
The Christian Church clock started chiming down the street. Before two chimes sounded, Miss Willadean's heels clicked through the front door. Betty Jean grinned over at Michael when Miss Willadean's yoo-hoo to Neville at the county clerk's office carried down the hall.
Then the little lady came on back to step into their office and glare at Michael. She had on a lavender suit with a deep purple pillbox hat that had to be fifty years old, perched a bit haphazardly on her tightly curled hair.
"Good morning, Miss Willadean," Michael said. "Is everything all right today?"
"No indeed, it's not all right." She pointed toward the front of the courthouse. "There are bloodstains on the post out front. It makes a person tremble to walk past it."
"Yes, ma'am. I'll see if Roy can take care of that today."
"I should think so. What about you?" She sniffed loudly and gave her head a little shake. Her hat slid to the side. "You do know a murderer is on the loose."
"Yes, ma'am. We are aware of that."
"Well, isn't it time you did something about it then?" She shoved her hat back in place, upsetting a few curls in the process. She turned her glare on Betty Jean. "Where is Sheriff Potter anyway?"
"He'll be in soon, Miss Willadean. Did you think of something else to tell him about what happened?" Betty Jean picked up a pen as though ready to take notes. Michael was impressed that she kept a smile off her face.
"I have something to tell him all right. We elected him to keep the citizens of this county safe and not let people get shot on the courthouse steps." She slid a purple-flowered handkerchief out of her pocket and touched her eyes. "Oh dear, I could hardly sleep last night thinking about that poor man."
Thanks for Reading
Hope you enjoyed getting another glimpse of Miss Willadean. She wasn't a major character in the story, but I had fun imagining her in the scenes where she did show up. And I do always thank you for reading.