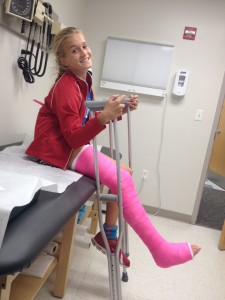 The caption giveaway contest continues. You readers make me smile with all your imaginative captions. So here's the new photo. What say you on this one?
Tongue-Slurping Good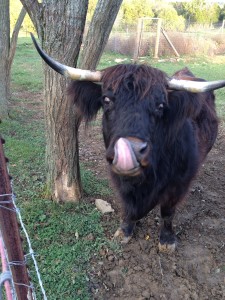 I'm glad you had fun coming up with captions on Sunday's photo. When I thought of possible captions, I was in the same camp as many of you with something delicious to eat. You know lip-smacking good or in this case, tongue slurping good. You had several suggestions of what would be that good or sticky from peanut butter and molasses to pizza with pineapple. Evelyn showed her farm background by thinking about salt blocks that cows do enjoy licking.
I liked Peggy's itchy nose caption and I have to admit I laughed at Marji's no tissues one. Sharon and Connie had the fellow getting ready for pictures. And I really liked Patricia's where she has the big guy taunting me about having a longer tongue than I do "nana nana boo boo." That does somehow match the look in his eyes. LOL. You can read all the caption suggestions in their entirety in the comments on Sunday's post.
New Photo Caption
So here's the new photo. You can come up with a caption for it and get another entry in my giveaway. Remember, I'll pick my second winner on Sunday and then another winner on the next Sunday. The winner gets his or her choice of one of my books and a grab bag book. Diana D. was the winner last Sunday. This Sunday it could be you.
More News – E-Book Sale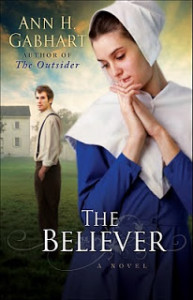 My publishers are offering a couple of my books at very low e-book prices right now. Scent of Lilacs,  my first Hollyhill book, is still available as a download for 99 cents. And now The Believer, my second Shaker book is available for a few days for $1.99 or less. Check it out at Amazon, Christianbook.com, Barnes & Noble, or any of your favorite e-book sellers.
All my Shaker books are stand-alone stories. The connection is the setting, my fictional Harmony Hill Shaker Village based on the Shaker village near me here in Kentucky. In The Believer, I wanted to show why people might have ended up with the Shakers due to life circumstances. I enjoyed getting to know my main characters, Ethan and Elizabeth, but I also really fell in love with some of the secondary characters in The Believer like little sister, Hannah, and Shaker Brother Issachar. Hannah was a lot of fun to write about because she was such a free spirit. I like to imagine her grown up and going on many adventures. Also, if you read my recent Shaker book, The Innocent, you might have noticed that Elizabeth's brother, Payton, made an appearance in that story.
I hope to send out a newsletter tomorrow with a short excerpt from the book. If you aren't signed up for my newsletter, it's easy to do. Just look for the Newsletter Sign-Up here on my website.
Waiting for Your Captions
As always, thanks for reading, and I'll look forward to your captions on my new photo. Remember, family friendly captions only.