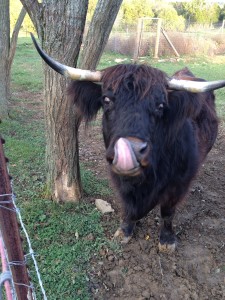 We have a winner! Diana left a caption on snowflake spotted Oscar, and her name rose to the top of my drawing hat. Diana has a blog of her own where she explains some of America's interesting expressions like it's "a piece of cake" to those who may not have grown up "shooting the breeze."  You can check her Words, Wit & Wisdom here. I'll be in touch with Diana about which books she wants to choose as a prize.
Great Captions on Wednesday's Picture
My little grandson was very cute reading the paper some years ago. And your captions were very cute too. Nyla had my little guy looking at the market page to check about buying Fisher Price stock. Sev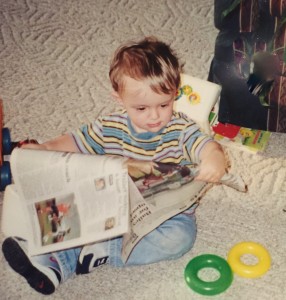 eral of you had him searching for the comic section instead of the news. I don't know about my grandson, but that could definitely be me. I'm always ready to read what we called the "funnies" or the "funny papers." And it seems I can remember my parents and others calling the comics the "pink pages."
I could definitely agree with those of you who said he was complaining about all the election news. Linda M. went another step and had him complaining about being misquoted. Seems he made a campaign promise of free ice cream on every Thursday and the news people had gotten it wrong and said free ice cream every day. Sure to bankrupt the country. 🙂 Peggy had him complaining about the price, saying it had gone up from a nickel. That would have been a while back. I do remember nickel candy bars, but guess, at that time, I wasn't paying much attention to what newspapers cost when I'd rather spend my nickels on that candy. There were more great caption suggestions like the one about "free puppies," but with my grandson, it would be more like "free lizard." He didn't get the love dogs, any dogs gene like his sisters did.
So thank you all for your fun captions. I did a lot of smiling when I read them. As to the caption I would put? I'm sitting here going back in time to when my grandson was this age. He was such a sweet kid and still is but now he's about six foot tall. So, keeping in mind what he liked as a kid, I'll give his picture this caption. "Look, Grammy. There's a dinosaur show at the museum."
New Photo
Okay, so now's your chance to put words into this bull's head. What is he saying? Or about to say? Come up with a caption and post it here in a comment to have a chance to be next Sunday's winner of your choice of one of my autographed books and another grab bag book by a different author. Any caption will do as long as you remember to keep it family friendly. I can't wait to see what you come up with this time.
As always, thanks for reading. You people are so much fun to be around.