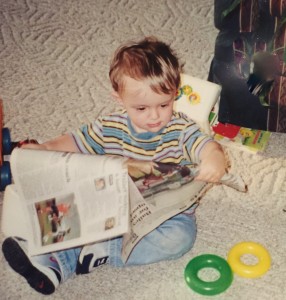 You people are great caption writers! Thanks so much for coming up with some good thoughts for Oscar. He agrees he might have said them all!
But what do I think he might have said? I know. You didn't ask, but it's my fingers on the keyboard right now. 🙂 Actually, I was with many of you who thought of the need for a little dandruff shampoo.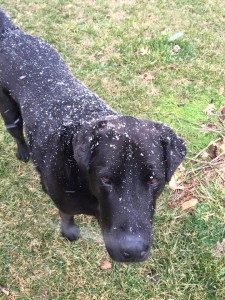 Then a few of you mentioned how the old groundhog must had been lying when he said no more winter. Kim used her imagination and came up with an angel sneezing and perhaps showering down angel dust on Oscar. Lois had Oscar chasing a cat around the kitchen and managing to upset the flour container.
The one that probably sounded the most like Oscar was from Carol. "I'm not budging until I get my biscuit; I don't care how deep this snow gets." Then somebody suggested he was turning gray and might need to hunt the dye bottle. I doubt Oscar would worry that much about gray hair. That's me hating to see those gray hairs.
But maybe I'll just let Oscar say, "Hey, am I looking good enough to be on Facebook again?"
Contest Entries
Okay. All of you have an entry in the drawing on Sunday for a chance to win your choice of one of my books and a grab bag book by a different inspirational author too. The contest is open to everybody over 18. You can enter by leaving a caption on one of the pictures or all of the pictures through the end of March. Each caption on a new picture gets you an additional entry in that week's drawing. I'll draw for a winner this Sunday and post a new photo then for a new contest for the following week. Is that all clear as mud? Well, clear or not, I hope you'll keep having fun with the contest. Before we're through, three of you will be winners.
Remember, the captions have to be family friendly. So what do you think my little guy in the picture above is thinking or getting ready to say?
Remembering Mom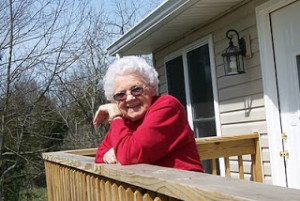 Today is Mom's birthday. She would have been 96. She always said she wanted to live to be 100, but I think she would have changed her mind once she got Alzheimer's. But she made it to 90 before she showed many symptoms and was always ready to smile and enjoy being with those she loved. This is one of my favorite pictures of her. She was at my house watching the kids hunt Easter eggs.
I miss her. I know many of you, who have had to say goodbye to your mothers, understand how I feel. But one thing sure – our mothers never leave our hearts.
As always, thanks for reading and I look forward to your new captions.