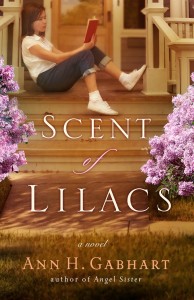 What Can you Get for 99 Cents?
What will a dollar buy these days? A candy bar. A soft drink – maybe. A pack of bubblegum. More gasoline at the pump than a year ago. A zillion or so different things at a Dollar Tree Store. Right now for less than that dollars, only 99 cents, you can download first Hollyhill book, Scent of Lilacs. 
I like it when the publisher decides to run a sale on my books because I want to share my stories with as many readers as I can. Scent of Lilacs is a special book for me because when I was writing it, I thought it might be the last book I ever wrote. You see, before I decided to use my memories of how my little hometown was in the 1960's and create my fictional town of Hollyhill, I'd gone through a long stretch of writing without finding a publisher for my stories.
Had My Writing Dream Come to an End?
I'd had two historical novels published in 1978 and 1980 and eleven young adult books published after them. But then, I fell off the publishing wagon. The books I wrote didn't find loving editors or any kind of editors. I tried more young adult books. I tried mysteries. I tried a straight romance. Nothing garnered interest from those who could put my books on the store shelves. I began to wonder if I'd ever publish another book. Perhaps my writing dream had come to an end and it was time to come up with new goals. New things to do. But I had never wanted to do anything but write stories since I started writing my first Hardy Boy clone mystery when I was ten. I couldn't give up without trying at least one more time to write a book someone might want to read.
One More Book
So, I stopped worrying about what editors might want. I didn't think about which genres were selling. If I was going to only write one more book, I wanted to write a story I could love. A story about people I could know. A story set in a small town like mine. My little town became Hollyhill. I copied the Main Street and the Courthouse. I copied the sound of the screen door on the old newspaper office. Bits and pieces of my memories found their way into the story.
Best of all, a family came to life in my imagination. Jocie, the thirteen-year-old who lives the story. Wes, the grandfather figure who claims to be from Jupiter. David, Jocie's father who runs a newspaper but wants to preach. Aunt Love, who quotes Scripture to try to make Jocie behave. Zella, the set in her ways secretary at the newspaper. Leigh, who wants to marry a certain preacher. They came to life as I began to hear them talking to each other. And while I knew some of the things that were going to happen to them in the story, many of the events surprised me as the characters led me along their story road.
Simple, Straight from the Heart Prayers
Of course, none of that meant the story would ever get published. I liked those other stories I'd written that ended up on my rejection shelf. But the people who lived in my Hollyhill were different. They danced around me. They encouraged me. They refused to let me give up. And they, especially Jocie, pushed me to pray. In the story, Jocie has a dog prayer because she's wanted a dog forever. She has her sister prayer because she wants her sister to come home. She has her please no more cabbage for supper prayer because she can't stand cabbage. And more.
If I could write about Jocie sending up simple, direct prayers straight from the heart, why couldn't I say a book prayer? I could and I did. That was a prayer the Lord surely answered when my agent sent the finished book to an editor whose favorite flower just happened to be lilacs. And I was back in the book writing business again. Since then I've had fifteen other novels published in the inspirational market with more on the way.
Scent of Lilacs – 99 Cents
But Scent of Lilacs has a special place in my heart because I love those Hollyhill characters and because it started me on a new fiction writing path where I get to write the stories I want to write. Now you can download Scent of Lilacs for the low price of 99 cents. Many greeting cards cost over three dollars and as much as seven dollars these days. I guarantee you Scent of Lilacs will give you more words for your dollar. 🙂 See more about Scent of Lilacs here.
If you're already read the story, which character did you like best? Would you recommend it to your friends? As always, thanks for reading!