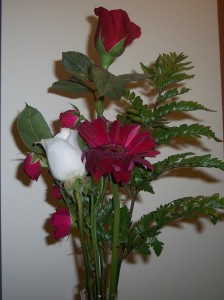 On Valentine's Day I sent out a newsletter with a Happy Valentine's wish and a giveaway contest. To enter readers sent me an e-mail. (The contest is still open and if you haven't entered, you still can by sending that e-mail or leaving a comment here saying you'd like to throw your name in my giveaway drawing hat. Deadline for entries is midnight EST February 27th. Ann will pick three winners who will get a box of chocolates and one of Ann's books. You must be 18 to enter.)
As I often do with a contest, I asked those entering to send me a story about a favorite Valentine gift or day. A story wasn't necessary to enter, but simply for added fun.
I kept in mind that some people feel sad on Valentine's Day because they don't have the kind of romance in their lives they think a person must have to enjoy the day. And I did hear from some who felt that way. But others didn't limit Valentine memories to romance which is how I like to think of Valentine's. God is love. Why not share that love on Valentine's Day and every day?
So when I received this story from C.K., I asked her if I could share her Valentine's Day with you. I hope you'll be inspired by her story.
C.K.'s Valentine's Day Story
I receive an inspirational daily email (from http://lysaterkeurst.com/) and the one at the beginning of this week was about LOVE and of the disappointments of Valentine's Day. It challenged to GIVE love rather than receive love affirmations to make this holiday special. So, I went to a local grocery that sells flowers and got a bouquets [3 for $12 – such an inexpensive investment] and I CHOSE to visit some friends I knew would be alone on V-day. Here is my report:
KC's husband died in December; so this would be her first V-day without her husband. I showed up Saturday morning with a bouquet and muffins. Before our kids graduated school, we regularly had a weekly "tea time" after they left for school. Although we remain friends, life changes ended this and we've gone separate ways although keeping in contact. So, with flowers, tea and muffins, I showed up at her door and we spent a special time together which earned a major hug and renewing the special love of friendship.
My husband is paraplegic; so family support is important. His widowed older sister has consistently been supportive by having him over for brunch every Saturday to give me 1.5 hours free time every week for years. [ I drop him off and pick him up around 11 am.] When I picked him up, I gave her a bouquet for being a loving sister. She stated that it has been years since she's received flowers and her joy was worth more than I deserved.
The third bouquet I took into the UBS Store that I visit every Saturday. The store owner was there and the [lonely] "chair warmer" who spends her day in the visiting/reading area. I opened the bouquet and gave each of them a flower, keeping the last one for myself.
On Valentine's Day, I looked at that single flower in the vase on my table and know that I received so much more by not being focused on "Sweetheart" but on GIVING LOVE. Yes, I received a card and cookies from my spouse, but my perspective on love has changed.
Thank you so much, C.K., for inspiring and challenging us to look at Valentine's Day in a different way. It can be so easy to bring joy into other people's lives with a little consideration and time. May we all look around us this week and find ways to share the sunshine of Christian love with our friends and neighbors.
As always, thanks for reading. And remember you can still have time enter my giveaway for that candy and books.