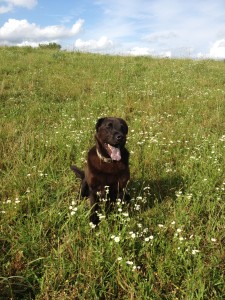 I'm going to be a guest on a blog, Quid Pro Quills this Wednesday for their regular feature Animals and Authors. Oscar is the star in that post. So since I've been meaning to do a post about my dog, Oscar, here on One Writer's Journal forever, I decided now was a good time. This post will be different from the Quid Pro Quills post. That one talks about writing. This one just tells you about my sweet, odd dog Oscar.
First you need to know that I have not been without at least one dog buddy in my life since I was around eight years old. That was when I got a bad case of the dog hunger. I wanted a dog more than anything in the world. I must have talked about it all the time because a man who partnered with my father in raising tobacco brought me a pup. He said he brought it to both my sister and me, but from day one, that dog was MINE. I named him Ollie after the man who gave me the pup, thinking I was doing the man a great honor. However, it was easy to see he wasn't as pleased to have a dog named after him as I thought he would be. 🙂 But I kept the name anyway.
But this story is about Oscar. About seven years ago, my dog was a chocolate lab that was getting old. My husband decided I needed a new dog, and he started looking at dogs on the internet and telling me about this one or that one. I would tell him that I already had a dog and didn't need another one. But then, he found Oscar. Oscar had been dropped alongside a road in a nearby city and a couple who worked with horses rescued him and took him back to the barn. They gave Oscar his name and wanted to keep him but they had to travel with their job and couldn't take Oscar. I looked at Oscar's picture and said, okay, go get him. That was one of the best decisions I've made.
We didn't really know how old Oscar was, but we thought he was probably about grown when we got him. On his first vet visit he weighed 55 pounds. Obviously, he was only entering his growth period as now he's over 100 pounds. For the first few years here on the farm, he refused to come in the house. That suited my husband who likes dogs to live outside. I was more in favor of Oscar keeping me company in the house, but the only way to get him inside was to drag him across the threshold and then he looked like I was torturing him. So he lived happily outside.
Then we were having a porch made into an extra
room. The builder parked in the field nearer the room he was building and one day when he was leaving, he ran over Oscar. I was sitting with Mom at her house at the time. She had dementia and couldn't be left alone. So when I got the call about Oscar, I couldn't go home to see about him. My husband who was at a doctor's appointment finally went home (not nearly as quickly as I thought he should) and he took Oscar to the vet. There they confirmed my husband's fears that Oscar had a badly broken back leg and would need surgery with screws and plates. When I asked my husband how much it would cost, he said he hadn't even asked as he didn't think it would make any difference to me. And he was right. Oscar was worth it.
After a stay in the doggie hospital, he came home and no longer had a choice about being inside. So I bought him a bed and he took up residence in the room we were building or in my office. At this point the new room was boxed in but not finished. There was no way to go out the back door. That meant Oscar had to walk through the house to the front door to go out. He refused to walk on our hardwood floors. I had to make him a trail of scatter rugs through the house and then he very nervously made his way out of the house. Fast forward a few weeks and his leg healed, the room got finished and Oscar took up residence in his new room. He was fine with coming in the house now. He would eagerly come in the back door, but only the back door. Not the side door that came into the same room. He also would not and still will not come through the open door into the kitchen. The floor is exactly the same tile, but as much as he wants to be with us, he is terrified of walking through that door. You can't entice him with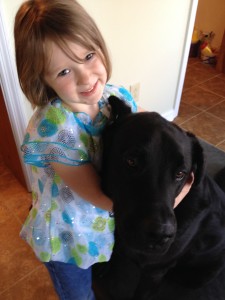 treats of any kind.
Occasionally a visitor will come he really wants to greet and he will get halfway through the kitchen door. Then all of the sudden he will notice he's out of his room and retreat. Even the grandkids, as much as he loves them, can't get him to come into the kitchen. He will come into my carpeted bedroom from my office when he hears thunder. At times, during a thunderstorm he has even crossed the hardwood hallway into a different bedroom. A couple of weeks ago after three years of coming down a short hallway into my office, he decided the hallway was a dangerous stretch and would not cross it. After I led him into the office a few times with the leash, he overcame that fear. Our neighbor who takes care of him when we go on trips says Oscar needs counseling.
Maybe so, but for a dog, he's pretty smart. He's figured out a lot of things on his own. For one, he never had to be told not to go potty in the house. He just didn't from the first day he was inside. But he did get so attached to me while I had to t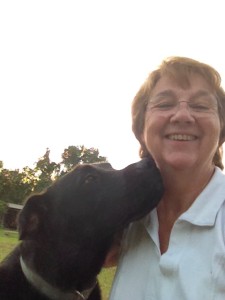 ake him everywhere on a leash when he was recovering from surgery, that he still expects me to walk out to the field with him while he takes care of his necessary business. I have gotten to see many more starry skies and been able to enjoy all sorts of weather with Oscar. At least, he does generally hurry when it's snowing or raining. Also, he prefers to go outside to get a drink and will only drink from the water I have inside for him if he absolutely can't convince me to get up from my desk and take him out.
But in spite of his idiosyncrasies, Oscar is a good dog. He's a wonderful walking companion. He's absolutely great with the grandchildren. He's sweet company while I'm writing and he seems to know he can't mess with anything smelly he finds out on our walks unlike that chocolate lab I had before him. So far, he has even avoided any encounters with skunks. I had a cockerspaniel as a house pet some years ago. A wonderful dog but he did have a way of finding skunks and cockleburs and mud. All dogs are different but I'm still very glad I said yes to getting Oscar. He might be a bit odd but he's also a very, very good dog.
Thanks for reading.