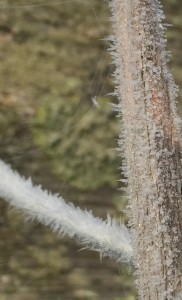 The true mystery of the world is the visible, not the invisible. (Oscar Wilde)
I finally posted a mystery picture that was a mystery to almost all of you. Can you see me doing a Snoopy dance? LOL. I did have one right answer, but not in the comments here. My sister-in-law knew what the mystery photo was and posted her answer on my Facebook page. But then she was a biology teacher along with being a country girl.
So what were some of the guesses?
The popular guess was something in a fish tank. Not a bad guess, but wrong. Then some thought it might be a spider egg sac. Edward even went out on the net to look up spider egg sacs. I may have to go out and see if he found a purple one like in that picture. That would be one colorful spider. Nancy took a walk looking for inspiration since she knows I take pictures when I'm walking. In fact, I did take Sunday's mystery picture on one of my walks. If she had lived near where I live, she would have seen the mystery photo with no problem at all. She might not have recognized it though. I don't think I would have recognized it. I had no idea those things looked like that until I did the close-up. It's great when you reading friends get involved with my mystery pictures.
Linda said she was prepared to say she didn't know what the picture was even if she did in order to make me feel better about posting pictures that weren't such mysteries after all. But then she said she really didn't know what it was. Perhaps she still said that to make me feel better. 🙂 I'm glad it wasn't her guess of a fungusy carpet. If I have one of them, I'm not taking a picture!
Sandi said it was a finger smashed by a crashing alien ship. Sometimes we have to wonder about Sandi. LOL. Ann M. had a good guess of a green seedy thing. It can pay not to be too specific, but then the seedy thing looks purple to me. I did have fun with all your guesses, both the serious ones and the not so serious ones. Those of you who were thinking seed pods or plants were on the right track.
The Rest of Picture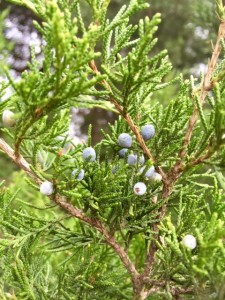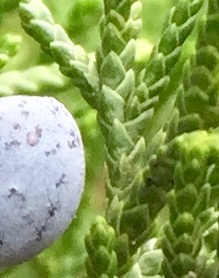 So now for the big reveal. I had no idea that cedar branches looked like that close up. They seem almost braided, don't they? I realize I may not have been playing fair for those of you who perhaps don't have cedar trees around your way. But I told you it was going to be no more Mr. Nice Guy. And right or wrong, your guesses got you another entry in my book giveaway.
Three more pictures to guess before I do the drawing on January 31. So three more chances to get your name in the drawing hat again. The new mystery picture is up top. I'm not sure if it's very mysterious of not. I guess we'll see. But even if you guess it straight away, I did get you on the cedar berry and branches. And I have one coming up on Sunday that you'll never guess. Well, maybe you'll never guess. Well, I hope I can stump some of you. Oh well, you'll probably all guess it, but at least we'll have a little fun.
Thanks for reading.
P.S. To find out about the prizes and contest particulars look back at the A New Mystery Photo Contest post.