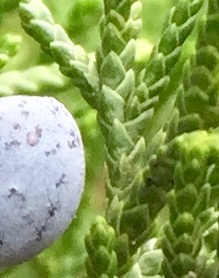 As Grover, the Sesame Street monster, says in his cute book "A Monster at the End of the Book," NO MORE MR. NICE GUY!! That's one of my grandkids' favorite books. I must have read it five hundred times and on one of the pages that's what Grover yells. And of course, when I'm reading it, I yell too or at least say it very forcefully while shaking the book a bit. The kids love it. So much that now that they're all reading themselves, they sometimes read it aloud with the same dramatic flare.
But this is not simply drama. I am really trying to trick at least a few of you with these mystery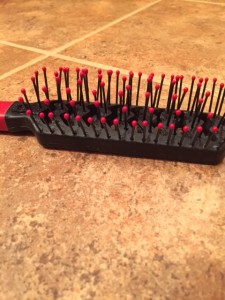 photos and so far, I'm not doing so hot. A few of you guessed something different on Wednesday's photo simply because you thought I wouldn't have given you one so easy. But yes indeed, the mystery picture was brush bristles. You all must have the very same hairbrush I do. But I do want you to know that I did wash that brush really well before I took a picture of it. LOL. I should have hunted up my old brush with some of the red tips missing. Oh well, you would have probably guessed that too.
Nancy shared a link in her comments on Wednesday's post suggesting I try a microscopic picture. I don't quite have the camera for that, but I did go check out the pictures on the link she suggested. I don't think you would guess those. Or maybe even want to. That used dental floss was enough to make me quit flossing my teeth or maybe make me floss them twice as much. LOL. I didn't have the nerve to look at the eyelashes photo.
Mystery Photo #3
And being extra observant as you all obviously are, you'll probably guess the new picture too. I want you to know that I am trying. Maybe I'll have to be like Grover in another book we have starring him. In it, he's trying to play hide and seek with the reader and of course the reader can always spot him no matter what he does to try to hide himself on the page. At the end of the book he tells the reader that if they are really his friends, they will pretend they don't see him. I won't go that far yet, but who knows, maybe by the last picture next week, I might. 🙂
But first we'll see what you think about Mystery Picture 3. Remember that a guess on a new picture gets you another entry in my drawing to win some books, one of mine and a grab bag book. I'll pick three winners on January 31 and contact them by e-mail and also post their first names and last initial here on Sunday night, January 31. You must be 18 to enter but it's open to readers everywhere.
Now Back to Work
I've got a deadline approaching for Hidden Springs Mysteries Book #3. I did find those magic words "the end." But unfortunately I found too many other words first, so I'm having to trim and pare and cut to get back to the word count my publishers want for the book. Other books where I've needed to cut out thousands of words have been improved by the tightening. I'm hoping this one will be too. Also, don't forget that if you have an e-reader and you need to grab another book or two for it, my 1855 Louisville book, Words Spoken True, is on e-book sale until the end of the month. It's $2.99 on Amazon Kindle.  It's on sale at other e-book selling sites too.
Thanks for reading and for guessing. I always have fun playing the mystery photo game with you.