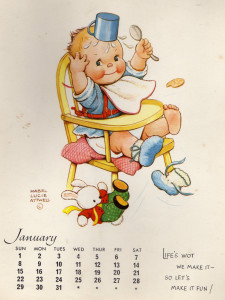 January 1, 1967
Jocie Brooke here reporting from Hollyhill, Kentucky. Happy New Year!! 1967 showed up on a Sunday so that means we started out the New Year in church. You are in church every Sunday when you are a preacher's kid! But I don't mind. I like going to church. At least, most of the time. Church people get to be sort of like your family. You don't necessarily really "like" everyone there, but somehow the Lord helps you "love" them like the Bible says for you too.
That generally works for me, but now and again I have to struggle to find that Christian love in my heart. When I told that to Dad, he laughed and said he wouldn't be surprised if a few of them weren't having the same struggle loving me like a Christian sister. But that doesn't mean we all shouldn't keep trying and the New Year is a good time to decide to do that kind of trying. Dad can turn anything into a sermon.
I guess everybody can agree that New Year's Day is a good time for resolutions. Do you make resolutions on New Year's? Did you make some last New Year's Day? Did you keep them?
I'm making a couple I will want to keep this year. To read more. And write more. I'll keep those two. But I might have a harder time with some of the other things I am resolving to do or not do. Like not drive Aunt Love any crazier than she already is. I guess I should try harder not to always be irritating her, but the problem is that half the time I don't know what's going to irritate her. If you read our first Hollyhill story, Scent of Lilacs, I'm guessing you'll be fussing at me to be nicer to her because of all she had to go through when she was young. And she can't help it if she's getting senile. That's just something that happens to old people, Dad says, and we have to be patient and help her every way we can.
So I'm resolving to be patient and help her and smile when she quotes those Bible Scriptures to try to keep me in line. That's something she hasn't forgotten and I'm glad about that. She must have half the Bible stored away in her memory. Dad says that could be one of my New Year's goals. To have more of what he calls heart Scripture. Bible verses you just know and that are there on file cards in your mind that can pop up like bread out of a toaster when you need help in knowing what to do. I think that might have been one of my New Year's resolutions last year. I could go back and look, but then I might be ashamed that I didn't carry through on that the way I should. But Dad says each new day gives us a new chance to do better and to be the person the Lord wants us to be. So I guess I'll try again to be that better person this year.
Oh, and did you notice the calendar? Miss Sally gave that to Aunt Love. I cringed when I saw it because, well, I thought Aunt Love would hate it. She's not a sweet kitten, cuddle the baby type of aunt. Although she does love her Jezebel. No, she didn't name her cat Jezebel. That's just what I call her even though Dad says I shouldn't. Jezebel has to be the meanest cat in the universe. But Aunt Love calls her Sugar and I guess that works since the cat is solid white and sometimes sweet to Aunt Love. Anyway, I thought Aunt Love would hate the calendar with a different cute baby picture on every month. But she actually smiled looking at all the different pictures and then first thing this morning before we left for church, she hung it up in the kitchen by the phone.
She says the baby reminds her of Tabitha's Stephen. And Aunt Love loves Stephen. She quotes Scripture to him too, but she sings the verses in lullabies to him. And now that he's getting older, she tells him stories about people in the Bible. To be honest, I stop whatever I'm doing and listen too when she does that. You can almost hear the hammer pounding and see the rain clouds coming closer when Aunt Love tells Stephen about Noah and the ark.
So people can surprise you. Maybe I'll surprise everybody and even myself this year by keeping all my New Year's Resolutions.