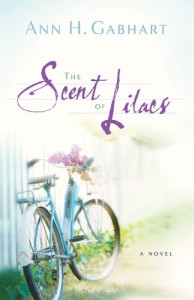 My Christmas Giveaway has ended. I assigned each of the entries a number and then I used Random.org to pick two winning numbers. Of course, as always, I'm the biggest winners because I got to hear from so many of you and read your stories of best gifts received as a child or given to a child. I've been sharing a few of those stories here on One Writer's Journal the last few weeks. Each one was a blessing to me.
You might be wondering why I posted this old cover of Scent of Lilacs, my first inspirational novel. Later the book got a new very different cover, but since Connie's story tells about a blue bike, I couldn't resist sharing Jocie's blue bike that showed up on the first cover of Scent of Lilacs.
We'll get to those winners, but first let's hear from Connie.
Connie's Story
"I recall a couple special gifts, both from my parents.  I know (now) that they were struggling financially but yet, they seemed to scrape together enough to make the holidays so special for my brother and myself.
First, I was supposed to play the part of  'rippling water' in a grade school play.  Oh, my.  The teacher said those of us playing that part HAD to have a frilly petticoat and I didn't have one but somehow, my dearest dad bought me one so I could properly appear in the play.  I was SO surprised and pleased. 
Second, one year at Christmas, I just knew I hadn't been good enough for Santa to bring me the bike  that I had wanted.  I stayed upstairs Christmas morning, afraid I would not find that surprise under the tree.  My parents hollered up the stairs and told my brother and me it was time to come down and see if Santa had been there.  I started to slink slowly down the stairs, turned the corner and to my amazement, there was that blue girls' bike with CHROME FENDERS!  Oh gosh!  Santa wasn't mad at me after all! 
I miss my dad so much, even after he has been gone two years.  Even writing the above memories has filled my eyes with tears.  But, thanks for posing your question about the best gift you got as a child so I could recall my fond memories.  
Sometimes it is good to bring up those long ago memories, Connie. Kimberley has a bit different type of memory but one that might bring a few tears too.
Kimberley's Story
Best gift I ever received for Christmas…My Daddy came home from Vietnam (1968), I was 10.  It was the best Christmas ever!  
Best Christmas gift ever given to a child…My daughter (age 5)…taking her to spend her Christmas vacation visiting Grandpa (my Daddy).  They were so close…it brought him great joy and her very special memories of  time spent with her Grandpa.  My Daddy passed at home on Jan 5th with us by his side.  We cried at losing him – but through my daughter's eyes  it was  "Grandpa is with Grandma now,  he is happy."
Those gifts aren't the type you can wrap and put under the tree, Kimberley, but they are gifts that will always live in your heart.
And Now Finally the Winners
Okay, I've made you wait to the end but now I'm hearing the drumroll. I have contacted the winners via e-mail. First place winner is Joan. Haven't heard from her as yet, so can't let you know which book she might choose. 2nd prize winner is Gail of Maryland. She gets the Barbara Johnson daily calendar and she picked my first Shaker book The Outsider.
Then, I sometimes pick a "just because" winner. I picked Candie because of the sweet message she wrote about her daughter, Grace. She said Grace has a twin brother with autism and that sometimes things can get a little difficult at their house with Grace having to show maturity and forgiveness. She also said that Grace likes nativity sets and if Connie were to win she'd give the set to her daughter to try to make her feel very special. And so I'm giving two first place prizes and hoping that the Nativity Set will be one Grace can treasure through the years.
Thanks for Reading and Joining in my Christmas Giveaway Fun
Thanks to all of you who entered and made my Christmas giveaway so much fun. I'll think about something for January here on One Writer's Journal to give away some books. So don't forget to come back to see what might be happening next.