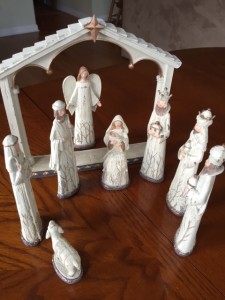 Only a few days left to enter my Christmas giveaway. Deadline is midnight EST December 15th. First prize is this lovely Nativity set that would look great on your table this Christmas. The figures are made of wood and Mary is holding Jesus. The second prize is a Barbara Johnson daily calendar that could bring you smiles all year. Plus, both winners will get their choice of an autographed copy of one of my books. Just for fun with your entry, you can tell about your favorite Christmas gift as a child or the best gift you gave a child. Leave a comment here to enter or send me a message from my contact page. For more information see my News & Events Page.
I've already gotten so many great stories of your favorite gifts. As you might guess, dolls and bicycles are often mentioned as the memories come rolling in. This is a fun one from Gail about a favorite gift given to her son. "I think the best gift I ever gave my son was a battery operated four wheeler and he was about three and didn't know how to drive it. We set it to where it would go in a circle and he rode it for about an hour that way." You can almost see them all smiling and laughing on that Christmas morning.
But not all gifts we receive come wrapped under a tree. Many of you highlighted how glad you were that your parents taught you about the greatest gift, Jesus, and the real meaning of Christmas. Others wrote stories about the blessings of giving. I've posted several heartwarming stories in the last couple of weeks. You can go back and read those posts to get in the Christmas Spirit.
Robbie shared a story last week about how hard her father and her family had to work and what a blessing it was to have a father who would do whatever he could to take care of his family.
"When I was little we were very, very poor. Dad worked ANYWHERE that would hire him. One year we all, my three siblings (all of us under 8), myself and Mom and Dad, worked as migrant workers. We had just moved from a migrant hotel to a house and had no money. Someone, somewhere, someway found out and contacted a local TV station. That year I got the book, Little Women, one sister got a sewing sampler, another sister got paper dolls and my brother a small toy gun. They were signed from Diver Dan and OU Squid.
Years later (40+), while going through my parent's things after they passed away, I found a card Dad gave Mom. It said, 'Let's be sure and keep Christ in our Christmas. After all, He is why we even have Christmas!' Such a wonderful thing to read after all we went through growing up. Things didn't get much better for them until after I was married and left home, but Dad NEVER gave up. (He even rode a bicycle – in ALL kinds of weather – to work for years because we couldn't afford a car!) He instilled in all of us a fantastic work ethic, too!"
A father's love is a gift that never fades and to teach his children how important it is to work is a fine gift too. Thanks for sharing your story with us, Robbie.
The rest of you still have time to share your stories with me. I can't post them all here, but I have enjoyed reading them every one! Your stories make me smile and sometimes shed a tear too. Thanks for reading!
P.S. E-book sales have been going on for my books all month. Now The Innocent e-book is only $1.99 or less, but only for a couple of days so best not wait to check it out if you're interested. Some of my other books are at attractive e-book prices this month too.