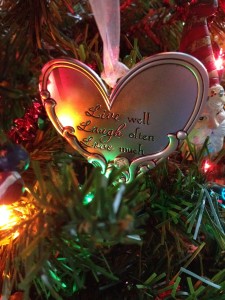 The spirit of Christmas is the spirit of love and of generosity and of goodness. It illuminates the picture window of the soul, and we look out upon the world's busy life and become more interested in people than in things. (Thomas S. Monson)
On Wednesday's post here, I shared a beautiful story of how Barbara and her co-workers made a Christmas very special for a down-on-their-luck family. If you missed it, you can go back and read it. I think it will touch your heart. Christmas is a great time for giving gifts without expecting anything in return. If you've ever given to a toy drive or bought a basket of food for a needy family or taken a name off an Angel Tree and bought gifts for a child you've never met, then you surely know the good feeling that giving brings.Two more stories that readers have shared testify to this.
I shared Connie's story on Facebook, but that was one of those posts Facebook decided not to let go out to a wide audience. It's a fun story of how Connie taught her son a lesson in generosity so I'm sharing it again. "The best Christmas I can think about is the one when my son and I chose an ornament from a tree for a little girl. My son who was 13 at the time just rolled his eyes and said, 'Are you kidding me? I am not going to go down that Barbie doll aisle.' My reply was 'Oh yes, you are or no gifts for you.' He rushed through the rows of doll items but looking back making sure no one he knew was looking his way. When he gave the little girl all he chose, she looked at me with a toothless smile and said 'You made my Christmas.' My son is now 25 and will tell you that's his favorite Christmas."
Anne also shared a story of giving that let her family have a best Christmas. "One year our family (my husband and I and our four children) filled big baskets with all kinds of supplies for a new baby. Because there were six of us in our family, we filled six baskets and took them to our local Crisis Pregnancy Center. We had such fun! That's probably one of our most memorable Christmases and the best gifts we've ever given a child."
"Christmas, my child, is love in action. Every time we love, every time we give, it's Christmas." (Dale Evans)
Candie has a little different story about her favorite gift as a child. "My favorite gift as a child was a box of 64 crayons and a coloring book from my grandfather every year…even into high school my grandfather continued…when he passed away there was such a loss…now we as adults, continue this tradition with our own children in his honor….Rest in peace, Grandfather."
Sometimes it's the simple gifts that are the best and the most memorable. All of you are giving me a gift by sharing about your gifts, both those you've given and those you've received. More stories to come, and remember you still have time to enter to perhaps win that Nativity Set or calendar and one of my books. See the details on my News & Events Page.
As always, thank you for reading!