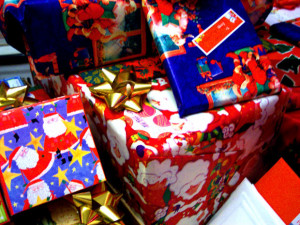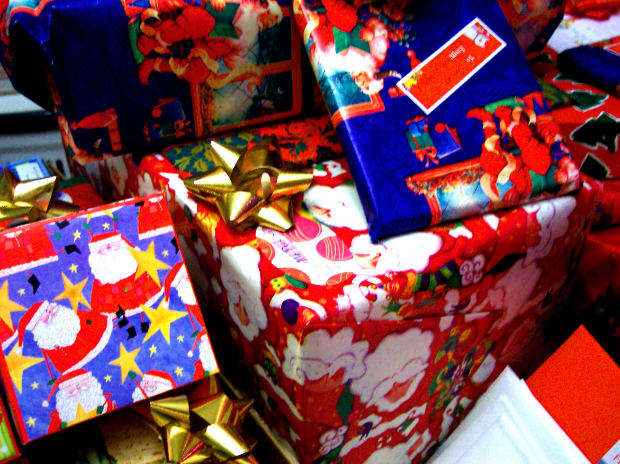 "For it is in giving that we receive." (St. Francis of Assisi)
As most of you know I've got a Christmas giveaway going. You can check out the prizes and how to enter on my News & Events Page. I invited those who wanted to enter to share about the best gift they'd ever received as a child or the best gift they had given to a child. As always, I'm getting great stories. If you sent one and I haven't answered you yet, I will. I love hearing from you all.
Some of the stories I've received are about how it is more blessed to give than receive. I got tears in my eyes reading this heartwarming story Barbara shared with me. She and her co-workers definitely had Christmas in the best way that year.
Barbara's story:
The most memorable gift I've given…turned out to be a gift to myself. An experience I'll never forget, a memory to hold dear…a lesson learned.
Several years ago, my coworkers and I had the amazing opportunity to adopt a family for Christmas. A young mother with 7 children. Their ages ranged from toddler to college bound. We purchased enough groceries to ensure a fabulous feast…huge turkey, ham and all the trimmings. Plus loaded up on staples (flour, sugar, spices, etc), some basics (milk, bread, mac-n-cheese, soup, etc) and a few other goodies (fruit juice, bananas, snack cakes, etc) and of course lots and lots of wrapped presents to place under and around their tree. The dept. I worked in was large, the folks generous…I've never seen a group of people pull together for one purpose so diligently before or since. It was our mission to help make this family's Christmas a good one!
I was blessed to be one of the 'elves' to deliver all the goodies to the family. And when I say all…it took a mix of about 4 or 5 cars/trucks stuffed to the brim to transport! When we arrived and got to the door with our first armloads…I'll never forget the looks on their faces. The Mom cried, so thankful and relieved her children would get a Christmas…a good Christmas…something that wouldn't have happened without our help.
The older children helped us unload the vehicles and carry in all the goodies…their eyes so big. One of the little boys kept running in and out of the house and around all the vehicles saying over and over "This is for us? All of this is for us?" We kept telling him yes and he finally just twirled in the kitchen with his head thrown back, laughter bubbling out of him like it'd never stop. Then he raced over to the grocery bags that were all over the kitchen table, taking up all the counter space and much of the floor as well…shrieking and giggling at each of his discoveries. "Look, we have snack cakes, he showed his siblings. Oh my gosh, Mom…we have a turkey AND a ham…you can cook us Christmas dinner!!" Then he spied a box of pears someone had donated and quietly approached them with a look of wonder on his face. He carefully opened the box, took out a single pear and presented it to his Mom…both of them now had silent tears on their cheeks…and told her in a soft whisper "Here, Mom…I know these are your favorite and you haven't had them for a long time. A whole box, Mom…they're all yours. I'll make sure no one else gets to them". It was all I could do to swallow past the huge lump that just kept growing larger and larger in my throat.
After we'd gotten everything in and the presents piled under the tree…the family followed us to the door, thank you's falling from all of them. That's when the little guy noticed the pile under the tree. Shocked and in awe, he pointed at them and said "Those? Those are ours too?" Someone in our group answered in the affirmative and he was racing off again. Picking up packages, shaking them, and excitedly reading the names off of some of them…Then he raced back over to give all of us a hug.
As we were leaving, I heard him ask his Mom who we were. She shook her head and told him she didn't know. The little guy told her "They were so nice. They saved our Christmas…I think God sent them. I didn't see wings, but I know they were angels." His Mom simply replied "You just might be right…." Please. We were no angels…but I know I'll never forget that afternoon (best ever!)…or that amazing, excited little boy. We made a difference that day…and it felt GOOD.
Not long after Christmas, we received a letter from the family. Each member gave their thanks…and one special little guy drew us a fabulous picture of angels carrying various foods and wrapped gifts. Yup….that big lump in my throat was back….and it felt GOOD.
What a beautiful experience, Barbara. Thanks for sharing it with us. Barbara has this to say about herself. "My family and friends often tease me about my storytelling…but, I live a Lucille Ball kind of life complete with an Italian husband and the HUGE family he came with. Add to that our 4 kids and 10 (!!) grandchildren…a few cats and a couple wacky lifetime GF's….stories are simply unavoidable, LOL! :)"
We're g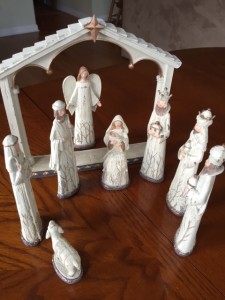 lad you like to tell stories, Barbara, and that you gifted us with this one. It's the perfect time for your story as we get ready to count our blessings. Wishing you all a blessed and joyful Thanksgiving.
Enter my Christmas Giveaway
It's not too late to throw your name in my giveaway drawing hat and to share a story about a favorite gift with us. I'll share more stories on Sunday's post. You can even simply leave a comment here to enter, but you must be eighteen to enter. The contest is limited to USA and Canadian residents due to the size of the first prize, this beautiful wooden nativity set.
And don't forget that my book, Angel Sister, is still on e-book sale. Only $1.99 right now, but the price will go back up soon. The other Rosey Corner books, Small Town Girl and Love Comes Home, are also at reduced e-book prices.