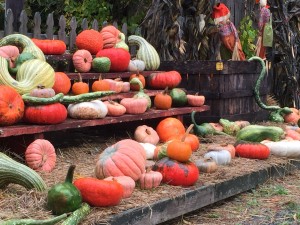 "My most memorable meal is every Thanksgiving. I love the food: the turkey and stuffing; the sweet potatoes and rice, which come from my mother's Southern heritage; the mashed potatoes, which come from my wife's Midwestern roots; the Campbell's green-bean casserole; and of course, pumpkin pie." (Douglas Conant)
We had our annual pot luck Thanksgiving dinner at church tonight. And since I go to an old country church with plenty of good cooks, we were really lucky when it came to the food spread. I should have taken a picture. It would have made your mouth water. We did have some repeat dishes. Three different pots of green beans, so there were plenty. And three different plates of dressed eggs. Some people consider dressed eggs a must at Thanksgiving. Not me. I consider the dressing and cranberry sauce the absolute musts for a Thanksgiving dinner. The turkey can come along because it's hard to have good dressing without some turkey stock and you got to have a little gravy to put on that dressing, but the dressing makes the meal for me. Pies are nice. Banana croquettes are wonderful. You might know how I love them since I wrote a post about that dish once. Sweet potato casserole is popular, but without that dressing it's not a Thanksgiving meal.
Dressing the Old-Fashioned Way
I make dressing the old fashioned way. Well, the way my mother made it. Well, almost. I sort of combine my mother's way (she made cornbread dressing) and my mother-in-law's way (she used biscuits for her dressing) so I have a blended recipe (cornbread and biscuits.) That's good because you are sort of blending two families together when you get married. His family's ways and traditions and your family's ways and traditions.
Actually my recipe for dressing is one of those oral recipes. My mama told me how to do it. The first step is baking that extra cornbread and those biscuits. When that cools, you crumble it all up in a big bowl An extra big bowl if you're trying to make enough for a church dinner. Then you chop up a medium sized onion and several stalks of celery and add to the cornbread/biscuit mix. Shake in a generous amount of sage. Then maybe shake in a little more. I always taste the dressing to be sure I've added enough. Too bad if I added too much. Can't change that too easily. Then you mix in one or two eggs according to how much dressing you're making and dampen it all with turkey or chicken broth. I've been cheating the last few years and buying chicken broth to use on my dressing. I want to be sure it doesn't dry out. You mix all the ingredients until the cornbread and biscuit crumbs stick together. Then you shape the dressing into balls. You can use a spoon. You probably should use a spoon or an ice cream dipper, but I will admit that I make the dressing balls with my hands. A bit messy, but that's how my mother and mother-in-law did it. Place the balls of dressing in a 13 x 9 dish. Once the pan is full, I pour about a cup of broth on top of the dressing. Then I bake it about 25 to 30 minutes, take it out of the oven, and I have some delicious old-fashioned dressing almost just like my mother made and almost just like my mother-in-law made. Add some cranberry sauce and that's my have to have on Thanksgiving.
What Dish Do You Like Best at Thanksgiving?
So what dish will you be making or hoping to find on the Thanksgiving table on Thursday?
E-book Specials and New Giveaways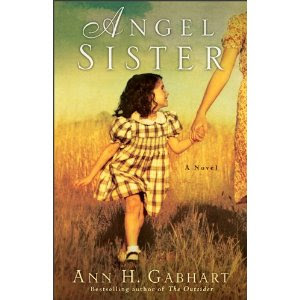 If you're an e-book reader you can download Angel Sister for less than $2 for a limited time. The other Rosey Corner books are also at a reduced e-book price for a little while. Check it out on Amazon or your favorite on-line e-book seller.
Also I did a guest post for Rose McCauley's Friday with Friends writing about my search for "the end" when I'm writing. You can hop over there and leave a comment to have a chance to win an autographed copy of your choice of one of my books. Also Rose guest posted here on One Writer's Journal on Wednesday about her Christmas stories. You can leave a comment on her post to have a chance to win an e-book collection of six Christmas stories by six different writers.
Last but not least, I sent out a newsletter on Saturday with a Christmas giveaway. If you didn't receive it and would like to, just send me an e-mail at annhgabhart(at)hughes(dot)net and I'll forward you a copy. The contest details are on my News & Events Page. I'll post more about my giveaway on Wednesday as you're all busily getting ready to cook your Thanksgiving dinner.