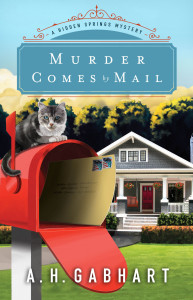 Hidden Springs mystery 2 isn't ready for readers yet. It's still going through edits and won't be released until July 2016. That sounds like a while yet, doesn't it? We still have Halloween, Thanksgiving, Christmas, New Year's Day, Valentine's Day, Easter, Memorial Day, and plenty of other days to fill the time before you'll have a chance to read my new mystery.
But the cover for Murder Comes by Mail is here, designed and ready. My publishers sent it out to me and want to hear what you think. I like the cat. That's Grimalkin, Aunt Lindy's cat. You met her in Murder at the Courthouse, and she makes another appearance in Murder Comes by Mail. As you can tell, Grimalkin has her own personality, but that's what you would expect from Aunt Lindy's cat. Sweet and cuddly just wouldn't do.
Do you think pets take on the personality of their owners? If that's true, I must be pretty laid back because that's how Oscar is. Except when he sees a cat. He doesn't pay much attention to rabbits or chipmunks. He might give a bit of attention to a squirrel if it crosses his path or runs through the trees over his head. He will chase off a deer if it's in the yard, but other than that, it's live and let live. But let a cat come into view and he remembers that cats and dogs are not friends. Off he goes after the cat. Said cats don't wait around. They take off and find the first tree available. I'm not sure what would happen if the cat decided to face off against Oscar, but if he meets one like Grimalkin, he might end up with a scratched nose.
So what do you think? Does it make the story look inviting? Do you like Grimalkin?
I'm sending out the books to the winners of my mystery photo game tomorrow. Amy Bi and Barbara L chose Murder at the Courthouse and Janet chose Christmas at Harmony Hill. She said she was getting into the Christmas spirit. Thanks to all of you who dropped by to play. Next giveaway will be for Thanksgiving and Christmas. I got the neat prizes today. I'll be sending out a newsletter soon with details. It's easy to sign up for my occasional newsletter and then you can be among the first to get the news about giveaways. Of course, I will be letting you in on it here too after the newsletter goes out.
Thanks for reading. And I'd love to hear what you think about the new cover of Murder Comes by Mail.