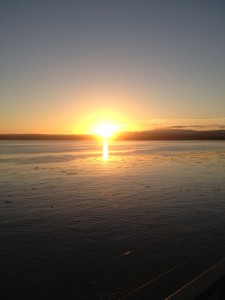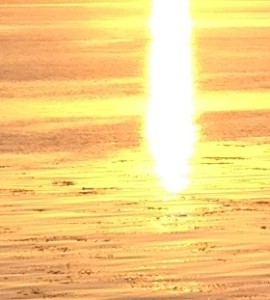 "The true mystery of the world is the visible, not the invisible." Oscar Wilde
And so here is the "rest of the picture" of the last picture puzzle. Some of you got it all the way right. Sherry, Lillian, Juanita, Linda M, Deborah. Several of you got it mostly right. Patricia, Loretta, Flora, and Darlene. Connie and Barbara got it right and then changed their minds. The most popular guess was the sun (or light or candle) on a wooden floor or something similar. You just didn't think the water could look so much like wood. I wouldn't either. But as Maxie (I think) said, if you pull a bit of picture up close things look different than you expect sometimes. One of you called it the sun on the golden pond. It's a big pond. I took this sunset picture a few years ago in Monterey Bay.
So while I didn't trick hardly any of you with the raindrops on the spiderweb or the rooster wattle, I did confound a few of you on this one. At last! LOL. But now the picture puzzles are over. At least this time. I'm sure we'll play this game again because it's fun. Well, it's more fun when I trick a few of you with the mystery pictures. 🙂 I have some more pictures in reserve because I tried out three or four before I settled on this sunset picture for the last mystery puzzle picture. I hope you had fun guessing on my pictures.
And now you could be interested in knowing who won. I picked the winners using Random.org. Every time you commented on a new puzzle picture, I wrote down your name and numbered it. Some of you had several entries. Unfortunately for some of you that didn't help. But perhaps it did for the winners, Janet B, Barbara L, and Amy Bi. I'll send the three of you an e-mail so you can let me know which book you choose. If I don't hear back from the winners by next Wednesday, I'll draw new winners.
Thanks again to all of you who played and made the mystery picture game fun. And now come back on Wednesday. I'm going to give you a sneak peek at the cover of my next Hidden Springs mystery, Murder Comes by Mail. I do appreciate all of you who have read Murder at the Courthouse and posted reviews and/or let me know you enjoyed the story. It's great to have you for reading friends.
"The mystery of life isn't a problem to solve, but a reality to experience." Frank Herbert