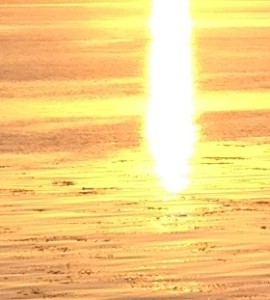 You all are just too smart for me. Even when I'm trying to stop being Mr. Nice Guy and pull out all the stops to trick you with a mystery picture, most of you still come up with the answer. Some of you must have grown up on a farm the way I did. I thought sure you'd think they were flower petals or something. But you even knew the right word for the mystery picture. Rooster wattle. Some of you said rooster comb and that wasn't exactly right, but very close.
Here is the mystery photo and the rest of the photo too. I was really hoping that little bit of the rooster's beak might fool you, but the question is, did you even notice his beak? Oh well, us country folk have sharp eyes and know a rooster wattle when we see one. LOL. Maybe I should have done a close-up of the rooster's tail feathers instead. You do have to admit he's a handsome guy even if he does look like he might like to pe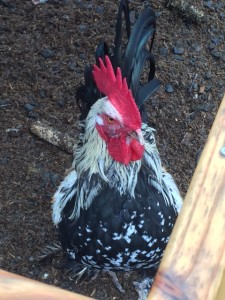 ck me if I get any closer.
Now we're down to the last mystery picture before I draw for the three winners and reveal the lucky ones on next Sunday's post. Winners will get their choice of one of my books, including my new Hidden Springs mystery, Murder at the Courthouse. The reviews are beginning to show up on Amazon and other places. Most have been very nice, or at least the ones I've dared to read. Reading reviews can be an iffy thing for authors. It's too late to change anything and the readers and reviewers either like your story or don't. So sometimes I read them and sometimes I don't.
I did spot one review unlike any I'd ever noticed for my other books. The reviewer listed all the things in the book that anyone might conceivably find offensive. And also gave the number of times each potentially offensive item was in the story. It was quite a list. I have to be honest. I had no idea some of those things the reviewer found worth noting would be any kind of problem to anyone. For example, the the reviewer noted that someone in the story scratched his backside. You know it had to be a he. Certainly none of my sweet female characters would do such a thing. lol. Actually, I can't recall any of my characters scratching their posteriors in the story, but I suppose they did since the reviewer flagged it in the book. So if you've read Murder at the Courthouse and that offended you, I apologize. It's not very polite to scratch your posterior in public. But one of my characters must not have been worried about being polite. Either that or he wasn't aware readers were watching.
I guess that's how I feel when I'm writing. I don't think about the reader watching. The story just happens. But I did have to admire that reviewer's careful assessment of the story. The disappointing part for me was that if the reviewer was counting all those things, that meant he or she wasn't really into the story. As a writer, I want the words to disappear while the story plays out in the reader's imagination.
So now it's time for you to use your imagination and guess this last mystery picture. At least this time. I'm sure we'll play mystery picture games again. Remember, even if you've already guessed on the other photos, you get a new entry guessing on this one. I know. Sigh. You'll all figure this one out too. I tried three or four different pictures and finally decided I might as well give up. You guys are just so observant. I almost put two mystery pictures up just to try to confuse you. 🙂 But if you can't figure it out, an "I don't know" gets you an entry too. You do have to be 18 to enter, but you can let your kids and grandkids help you figure out the mystery. The winners will be chosen by random drawing and is open to all.
Thanks for reading and for playing my mystery photo game! Oh, and I really do appreciate those who read and review my books. If you've posted a review for me, I thank you so much.