"All right, all right,
all right! No more Mr. Nice Guy!" If any of you have young kids or grandkids you may know where you can find that quote. It's Grover (sweet, lovable Grover from Sesame Street) in one of my grandkids' favorite read aloud books, There's a Monster at the End of this Book. Grover is trying to block the reader from turning pages and getting to the end of the book where he's afraid he'll see a monster. Of course, he fails miserably. So he decides to quit being nice about it and pull out all the stops. No more Mr. Nice Guy! And naturally, he still fails to keep the pages from turning.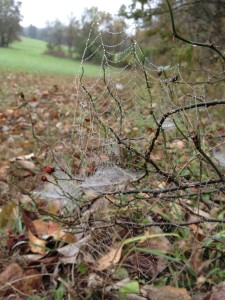 Well, that's what I did with mystery picture 3 – failed miserably to fool nearly all of you. But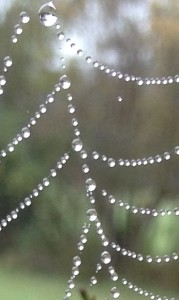 it's such a pretty picture. You have to admit that. Jewels suspended in air. Trouble is, most of you guessed that those jewels were nature made dew or rain caught on a spider web. Actually I think I took the picture after a rainy day. I did have a couple of other guesses. Kathleen thought I wouldn't be so completely obvious, so she guessed spotlights. Sandi gave it a poetic name, nature's jewelry which it is. But poetic or not, mystery picture number 3 wasn't all that mysterious. I'm hoping readers will have a little more trouble figuring out the "who done it" in my new mystery, Murder at the Courthouse.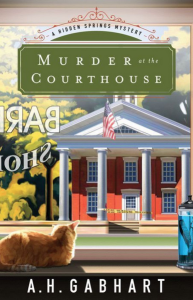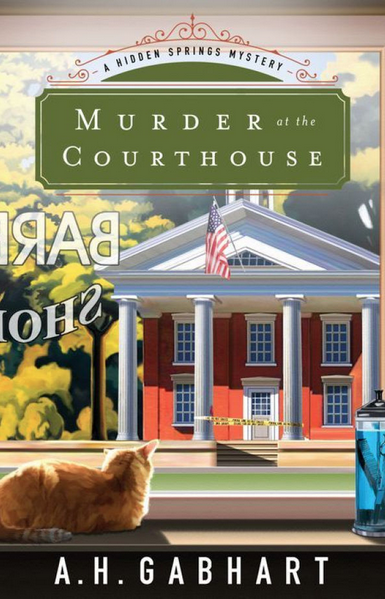 I had my Hometown Book Launch for this first of three Hidden Springs mysteries today. I do so appreciate those who came. For a while, I thought maybe it was going to be a slim crowd – like nobody but my husband and me! But then the room started filling up with reading friends. I know some of the rest of you would have come too if the trip didn't involve airplanes, buses and trains. Or long car trips. But think of the fun we could have if I could gather all you wonderful reading friends in one room to celebrate books and friendship.
Guess we'll have to wait for the sweet by and by for that. Meanwhile we can just have fun guessing mystery pictures and talking books here. I think I've pulled out a hard one this time. I think. But you all are so good you'll probably guess it too. Keep in mind it's no more Mr. Nice Guy! I'm working hard to try to trick you.
Only this mystery picture and one more on Wednesday before I draw for the winners on Sunday, October 25. I'll pick three winners who will win their choice of one of my books, autographed however they like. If you already have all my books – and that would make you my REALLY GOOD reading friends LOL – you can make a gift of the book should you win. Books make great gifts. Remember, you have to be 18 to enter, but you can let your kids help you come up with a guess if you want. You don't have to make a right guess to enter the drawing, just a guess or you can say "I don't know." That still gets your name in my drawing hat and each guess on a new picture gets you another entry in the drawing. So let's see what you think. If you all get this one, I am going to have to go back to the drawing board. Maybe I'll consult Grover about that no more Mr. Nice Guy stuff!
Thanks for reading. And I'll look forward to your guesses.