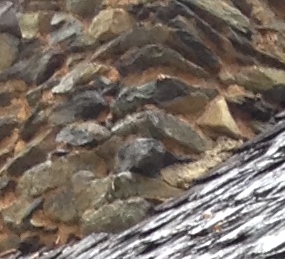 Are you ready to guess on mystery picture number 2? Oh, it could be you want to know about mystery picture 1. You all made some interesting guesses. Some made me get a yearning for some salty potato chips, but no, the photo wasn't potato chips. The spinach leaves g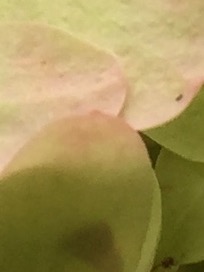 uess didn't make me hungry. Alas, that tells you a lot about my lack of healthy eating. 🙂 Clam shells was an interesting guess, but wrong. Flower petals was a popular guess – rose and magnolia and dogwood and begonia and tulip poplar petals.
Lillian, Peggy, Danie, and Laurie all figured out the exact right flower. Hydrangea petals! But take heart, all those of you who guessed but missed it a bit. You get an entry in the drawing anyway. A right guess wasn't necessary. Any guess got your name in my giveaway hat for a choice of one of my books. I'll pick three winners on October 25th, so the deadline for entering is October 24, 2015 at midnight EST. But the fun part is that each time I post a new picture, you get a new chance to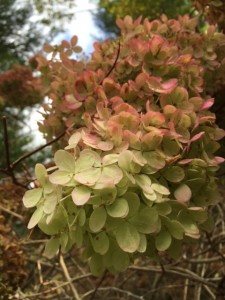 guess and that guess will get your name entered again in the drawing to give you extra chances to win.
Here's the rest of the picture. These blooms were so big and beautiful that it was easy to zoom in on a few of the petals and make them imitate those potato chips. Now here's mystery picture number 2. So make a guess and throw your name in the drawing. Remember you have to be 18 to enter. So ready, set, go. Can't wait to see if this picture fools you or if you all get it right off. I'll post the rest of the picture Wednesday or Thursday. I may have some computer issues Wednesday, but we'll see if I can get it worked out and get that mystery photo number 3 posted.