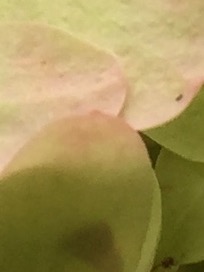 Are you ready for a new mystery picture game? With books for prizes. Some of you have played the game with me in the past before I changed my blog over to my website. I'm hoping some of you are still checking out my blog posts, but I haven't gotten as many comments, so I'm afraid some of my readers haven't hopped over here and found my new location. Of course, that will just lower the odds for those of you who are here if you decide to play. 🙂
At any rate, the last few times I've released a new book, I've had a blog only contest to give you a chance to win one of my books — the new one, Murder at the Courthouse, or one of my other books (winners' choice) autographed for you. A mystery picture contest sounds perfect for a mystery novel.
Murder at the Courthouse is pulling in some nice reviews from readers. That's a big relief for me. I wasn't sure how the book would be received. But here's a snippet of a review my publisher sent me last week from CBA Retailers + Resources, the official magazine of the Christian Booksellers Association.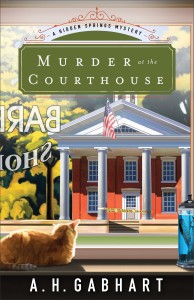 "Gabhart's tiny town of wacky characters is a delightfully fun read. Needless to say, the mystery is only part of this memorable story written by one of today's bestselling authors."
How about that? They called me a bestselling author!! I can hope this book will find its way into a lot of readers' hands and make that true. But mostly I just want people to read and enjoy the story. It is different from most of my other stories, but I did sneak a little mystery into my last Shaker novel, The Innocent, as a warm-up for this book. And as the CBA review says, I managed to populate Hidden Springs with some wacky folks.
Mystery Puzzle Contest Rules
Okay, here are the contest rules. Each guess on a new mystery picture will get you a new entry in the drawing. I'll post a different mystery picture on each Sunday and Wednesday. So be sure to check back each week for the new puzzles. I'll announce winners on the last Sunday in the month, October 25. So the deadline for guesses will be midnight EST on October 24, 2015. You have to be 18 to enter, but you can let your kids help you figure out what to guess. Remember, it's more fun if you guess first and read any other guesses after you make your comment. I'll pick three winners and the contest is open to all countries. There goes my postage budget. LOL. First picture is up at the top with this post. I'll show you the "rest of the picture" with Sunday's post and post a new mystery picture for you to guess. The main rule is to have fun! Now I'd better get busy figuring out how to stump you with at least one of my mystery pictures this week. Some of you are so good at this!
Prizes Going Out in the Mail
I'm sending out the prizes for my New Book Celebration Contest tomorrow. Again, I thank all of you who sent in cat stories. They were great and I may still share more of them in future posts.
Upcoming Events
I'll be in Bloomfield, Kentucky on October 17th for "Appetizers with the Author and Artist" at 12:30 p.m at the Bloomfield Library Branch. Then my Hometown Book Launch is Sunday, October 18th at the Anderson Co. Public Library at 2 p.m. We'll talk mysteries. Hope if you're in either of these areas, you'll come join the fun. Check out more details by clicking on my News & Events tab up top of the page.