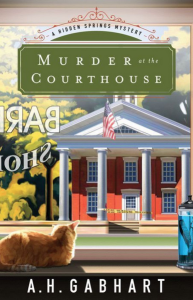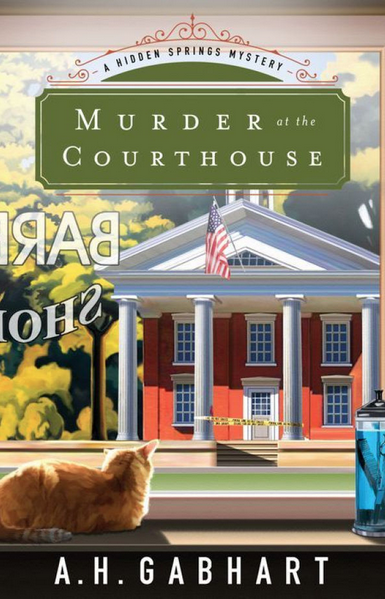 Cats do seem to get a lot of stories told about them. Perhaps that's because they are such unique characters. I keep trying to think up my own cat story, but I don't think I can top all of yours. However, I have written some cats into a few mystery stories and those cats are being featured on the covers of my new Hidden Springs mystery. First you'll get to read about Two Bits and Grimalkin in Murder at the Courthouse.
But right now, I want to share Val's story that she sent in with her entry to my contest to celebrate the release of Murder at the Courthouse. I didn't get a picture of Val's Banner, but here's my sister's cat who loves the outdoors.
Here's Val's story about her cat, Banner.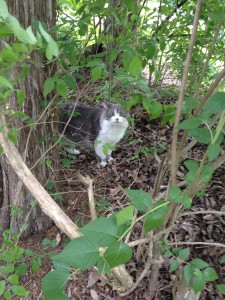 3 years ago on Mother's Day, my sister calls me and says she hears a kitten crying beneath her house. (Let me preface that by saying my daughter had pulled a feral kitten from beneath there earlier in the week. A black and white kitten who was hanging by her neck. The kitten turned out to be fine, was checked by a vet and named Elle after a character in a series of books Kaitlin was reading.) Back to the other story… So my husband crawls under my sister's house.  There IS another kitten there. Feral, terrified, hanging from his left leg at the shoulder, caught in the insulation. With leather gloves, a knife and a towel, he cut down and pulled out this tiny black ball of fluff. With a cold and stiff leg. We called the vet. A Sunday visit means an emergency visit, and emergency charges. They said waiting wouldn't make any difference if the leg was already cold. They gave us some instructions on handling him. And to bring him in in the morning. This is a feral kitten, right? He's hissing and spitting in the carrier. Did I mention we have other cats? Who don't necessarily take kindly to intruders? And that I really didn't need one more major vet bill? Well the fluff ball calmed down, ate and drank. We started to handle him. Yep. I lost my heart. Then the paw started to warm up a little. I started to gain some hope. First thing Monday, off to the vet.
We started to treat the leg. There was a chance we could save his leg.  His name, you wonder? Banner, after the Incredible Hulk because his paw was so huge. And he was going to be a superhero to some through this experience. He slept with us every night so we could monitor him. We took him to the vet 4 times that week. By the following Monday the conclusion was he wouldn't live if they didn't amputate his leg. I lost it. I couldn't afford $1500 to do that. But I just loved that kitten. He fought so hard and I couldn't give up on him! The vet's office did everything at cost. He came through flying colors.  Now we say Banner is spring loaded!  We actually got him a companion kitten later to keep him active- a white kitten we named "Banner's Toy."
There is no 12 step program for  "cat-a-holics" just a lot of love in our hearts for the furry felines.
That is such a super sweet story, Val, and one that many of the cat lovers who have been sending in stories will understand and agree that was exactly the right thing to do. Thank you for sharing Banner's story.
You still have time to share a story about a cat in your life or whether you have a story or not, to enter my giveaway. For details click on the News & Events link at the top of the page. Contest ends on Saturday night, Oct. 3 at midnight EST.
Thanks for reading.