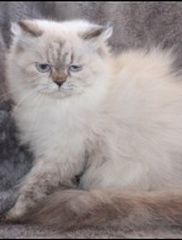 Are you tired of cat stories yet? I hope not. Love hearing about your unusual and unique pets. I'm still not sure some of you don't have a dog disguised as a cat. But then surely no self-respecting dog would do that! Not even for a Scooby Snack.
Here's a story about a beautiful, very fluffy cat and if her picture here is any indication, a cat with an attitude!! But let's see what her owner, Sherry has to say about her.
"I have a cat story for you: my precious baby was given to me on my 21st birthday by my husband. I named her Jewel. She was a beautiful Himalayan Lynx Persia mix. She had the most beautiful blue eyes like sapphire jewels. She was totally my cat and would not have anything to do with my husband. She was an indoor cat who had no desire to go outside. Each day she would greet me at the door and tell me all about her day. It seemed sometimes that she would never hush. She followed me all over the house each step I made – even to the bathroom. She would sit on the tub or the commode whichever one I was not using. The only time she was not with me was while I used the vacuum cleaner. She could not stand that machine and I really can't blame her as I don't like it either. She slept each night in the bookcase headboard of my bed with her two front paws touching my head. I was naive enough to think she stayed there all night, but in any case she was always in her spot when the morning alarm went off. Then she would get up and lay on my chest for me to pet her and talk to her. Somehow I became allergic to everything including my cat and I had to find her a new home. She was so special and I miss her so much. If I could go back, I think I would just suffer the allergies and keep her. Her example of unconditional love for me is the same love we are shown by our wonderful savior, Jesus Christ. He wants to be included in every step of our lives if we will allow him to be. His unconditional love and blessings are a free gift available to us all. Thanks for letting me share."
Beautiful story, Sherry, and a great analogy of how Jesus has such great love for us. Sometimes we feel unlovable, but we need to remember that God is love. He can make anything and anybody lovable. But we're all sorry you became allergic to Jewel. She probably missed you forever but also found another human to love and get to do her bidding.
My Murder at the Courthouse New Book Celebration Giveaway is still going on. Deadline for entries is October 2 at midnight EST. Just send me a message from my contact link here on my website or leave a comment on a blog post here with a way to contact you and I'll throw your name in my giveaway hat for the drawing for the cat throw, the angel and cat statuette and the books. Three winners. See the prizes and more info on my News and Events Link in the menu above.
I also have some events coming up to talk about my new books. First I'm at JosephBeth's Booksellers in Lexington, KY on October 6 at 7 p.m. My friend, Virginia Smith, will also be there talking about her wonderful new book, The Most Famous Illegal Goose Creek Parade. I'm looking forward to hearing her tell about creating the town of Goose Creek. On October 17, I'll be in Bloomfield at the Branch Library for Appetizers with the Author and Artist at 12:30 p.m. Then my Hometown Book Launch here in Lawrenceburg at the Public Library is Sunday, October 18 at 2 p.m. That's always a fun time when I get to talk about books and writing with my hometown reading friends. A busy month coming up for me, and if you're in any of these places I hope you will come help me celebrate Murder at the Courthouse.
One last note – I'm the guest blogger on the ACFW Blog today talking about "Weaving a Story Web."