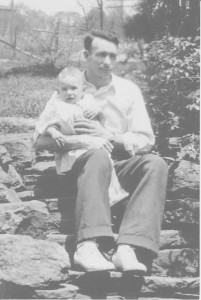 Occasionally it's fun to let someone else do the work for me here on One Writer's Journal. Sandi is making a guest appearance tonight with a tribute to her father who passed on to heaven on his birthday in September some years ago. But we never forget our moms and dad. Nor should we.  I borrowed this picture from Sandi's Facebook page to post with her words so you could see how handsome her dad was. The little girl is not Sandi but one of her sisters. Here's what Sandi says:
It wasn't often that all of us "children" (and I use the term "children" loosely) got together. Due to distance and work, visiting was limited, but in September of 1993, we had all gathered at Dad's home to spend whatever time he had left to just love him and be with him. We sang hymns and read him scripture and reminded him of fun times in the past. Although he was unconscious towards the last, I truly believe that he knew we were there. I believe it was as much a healing time for us as it was for him.
I, being a realist, projected into the future and couldn't come up with one that included not having "Dad" around. He was the glue that kept all of us together. My mother was sick a lot during our growing up years and it was, often, Daddy who got us up for school and packed our lunches and yelled a cheerful goodbye…wouldn't you if you had eight children?! If you hurt yourself it was Dad you'd run to and tell "Dad, it hurts when I do this." Dad's patent answer, "well, then, don't do that."
It was his voice we heard on Sunday mornings as he stood in the hallway between the bedrooms "everybody up for Sunday School." Never an argument from any of us…maybe a groan or two, but to live in his house was to worship the Lord…especially on Sunday morning. He was a lay speaker for the church and after he retired from the coal mines, he ministered to two churches of his own along with being a speaker in others. He and my mom sang in a quartet and he could whistle quite a tune. (He could also tap dance–he had music in his soul).
He was a very handsome man and loved to get "spiffed up." In his later years he was a bit scary with some of the outfits he'd wear. I can remember a frantic call from my younger sister when we were taking Dad to Pittsburgh to witness her oldest son being baptized. "Please make sure he's dressed appropriately." After we substituted a plain shirt for his flannel one and took off his bow tie, he was fine. I could tell by the gleam in his eye he'd been expecting a "dress down."
He worked in the coal mines for many years and when he got sick, which wasn't often, he'd say "I just need to work up a good sweat." When he developed lymphoma, he fought it like the dickens and was dismayed when his old treatments (sweating and baking soda) didn't work. I failed to mention that he was also a barber and had a shop here in his home. When he'd come back from chemo or radiation looking like a good puff of wind could send him Heavenward, he'd take off his "good" shirt and go down and cut hair. That was his therapy.
He went to be with his Jesus on his 83rd birthday, September 4th, while all of us hovered around and prayed, however, we knew where he was going! At the last, his eyes flew open and he looked over his head as if seeing those Pearly Gates. Happy Birthday, Daddy. Eat lots of cake! We love you.
Thanks, Sandi, for sharing the beautiful tribute to your dad with us. So many of us now have to look back and remember those good times with our folks and reading your words about your father make me think about mine. How about the rest of you? What's one sweet memory you have about your dad if he's passed on or one thing you laugh about together if he's still here to put his arms around you? Me, I remember Dad loving to play horseshoes. I remember the sound of the horseshoes wrapping around the metal pole as he made ringer after ringer.