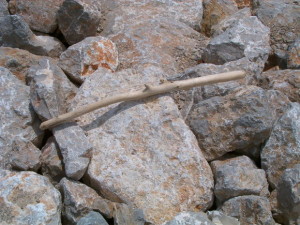 "Sticks and stones may break my bones but words will never harm me."
That's an old adage that I'm sure you've heard many times. You may had said it yourself or told your kids to say it when you were trying to get them past some hurtful words aimed at them at school or on the playground. I doubt it's actually true. Oh, it's true that sticks and stones might break our bones, but words can hurt us. Words that wound can stay with us for years, long after our broken bones from those stones would heal.
And of course, we've all been the victims of harsh words, thoughtless words, untrue words. Unfortunately, we may even have released some of those words into the world. Nowadays with communication so easy and so fast, sometimes words get away from us too quickly. Words we sometimes wish back. But there are also other kinds of words in this day of internet that can encourage, help, or hurt. Reviews. You can find reviews of almost anything and everything on the internet. Sellers beg you for reviews of any product you buy. Did you like it? Did it meet expectation? Would you recommend it to others?
While all sorts of products have internet reviews, books reviews have been around forever. The reviews used to only be in magazines and newspapers, but now readers review books on blogs, online review magazines and on sites like Amazon, Goodreads, and more. Anywhere the book is for sale, you, as a reader, can probably post a review. Some authors never read reviews. It can be a painful experience. Especially if you're not a seasoned or hardened writer who has been around the block a time or two.
I've gotten more than my share of great reviews and I appreciate every one. Actually, I appreciate anyone who takes the time to read one of my books. I admire people who can write reviews without giving spoilers. I even try to appreciate those who read my books but obviously just do not like them. I admit that's not always easy. But a person has the right to express his or her opinion, like this reviewer who gave Angel Sister a one-star review on Amazon. "I was disappointed in the fact that it was published at all. I could see this as a rough draft but not a final draft." Ouch! Those are only words, but that can bruise a writer's psyche a bit.

But then those unfavorable reviews are nicely balanced by the good one like this five-star one of Angel Sister from Anne. "When I start reading a good story, I get drawn in and just want to know how it ends. Last night, I finished reading a new book and when I was done, I just smiled." Smiles are good.
And you have to have two good ones, at least, to balance out the bad of that first one. 🙂 "I have never read anything by Ms. Gabhart but this book makes me want to read everything she has ever written. She pulls you into her characters lives, by weaving a story so real that I had to remind myself I was actually reading fiction.This was one of those stories where you hate to see it end." (excerpt from a 5-star Amazon review of Angel Sister by Brenda C.)
So I've gotten all sorts of reviews, but I'm thankful I've never gotten one quite as bad as this one written by Philip Hensher on the Observer about The Book of Kings by James Thackara. I've not read the book. I don't plan to read the book, but I did read portions of the review. It's harsh. Worse than harsh. Words that definitely had sharp points that had to wound. (The complete review is here if you're curious. http://www.theguardian.com/books/2000/sep/10/fiction.reviews2)
"Reviewing someone's first novel, it is customary to be polite about it, to find things to praise in it. So let me say straight away that James Thackara's The Book Of Kings is printed on very nice paper; the typeface is clear and readable, and Samantha Nundy's photograph of the author is in focus. And, given that it's 773 pages long, the author has shown a commendable degree of application and spent a great deal of time on the project. … And it's terrible. Startlingly badly written, with no apparent understanding of what drives people or how people relate or talk to each other, it is a book of gigantic, hopeless awfulness."
There is more. Much more. Criticism so harsh it made me feel bad reading it and I don't know anything about the book or the writer. And yet, if you go to the Amazon link for this book, there are five star reviews there that say the book is amazing.
That's the way of reviews and reviewers. The way of life. We don't all like the same things. We don't all like the same sort of books. And some people let the world know what they like and don't like.
Do you write or read reviews? Do reviews influence what you buy or don't buy? If you are a writer, are you bothered by those words in a bad review?