"When someone you love becomes a memory, that memory becomes a wonderful treasure to always hold in your heart." (Unknown source)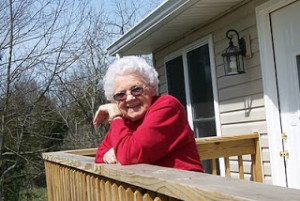 A year ago today, my mother gave up her fight and moved on up to heaven. Some of you walked with Mom and me down that lonely Alzheimer's path in her last years. It was a rocky path with thorns along the sides that reached out to tear at my heart as I watched Mom lose her memory until she did not know me. Those memories that she had long treasured slipped out of her mind like sand through a sieve.
She had always remembered things so well and did so enjoy sharing those memories with us. That's one of the reasons I was able to write Angel Sister with its Great Depression background based on her childhood. But all that slid away from her until whatever things filled her mind had little relationship to reality. She drifted in time to first being a teen who needed to go home because her parents were expecting her to being a young mother who needed to go take care of her own children. Her own infirmity when she couldn't rise from a chair without help never seemed to alter the thought of how young she was in her confused mind.
She never really knew she was losing her memory which was a blessing. That would have devastated her. At first, she did realize she was forgetting a few things and struggling with things that had previously been easy for her. But the real eye-opener for us was when she began to have false memories. She would think something happened that had not. Always upsetting things. That was the sorrowful part of Mom's journey. She was often angry or sad when she couldn't make things happen the way she thought they should. Mom was someone who got things done. She took care of people. She loved to travel. She knew how to have fun. And now in her mind, the world was turning against her.
There were still moments of joy. Joy has a way of sneaking into any situation. But dark clouds drifted over our times together too. I think my saddest day was when I realized that I could not take care of my mother as I'd always assumed I would be able to do. But I had never thought she would forget who I was. I thought she would get older, perhaps infirm physically. Mentally infirm did not seem to be something that would threaten Mom. I was wrong. I did continue to care for her with my sister's help and the help of a few wonderful hired caretakers, but it wasn't as I had always thought it would be. It was hard. Very hard.
Those of you who have walked down the same thorny path know that. It took much patience. Much prayer. And I thank all of you who did pray for Mom and for us, her family, during that time. Prayer made such a difference. We would be having an awful day when Mom was unhappy and my patience was ready to snap and then a prayer would happen. Things didn't change to wonderful, but we were able to bear the next hour, the next day. With dementia patients, it's often one hour at a time or even five minutes at a time. Get through this moment of crisis to the next and perhaps the worst unhappiness will be forgotten.
And now one year later, I am ready to "forget" some of those hard last days Mom had and treasure the good memories. For most of Mom's ninety-four years she was a happy person no matter the circumstances of her life. She loved her family. She took care of her family. She took care of me. She never turned her back on me even when I did wrong things. She just stepped into whatever mess I'd made and did her best to help me make things right again.
She loved me. That's the memory I treasure. Even when she no longer knew me in those last days, I knew that under the confusion in her mind, that love was still there. The disease might have hidden it from my sight, but it couldn't hide it from my heart. She was a wonderful mother and I was blessed to have her in my life for so many good years.
The Contest Goes On
Thanks for letting me go down memory lane, but my new website blog contest is ongoing. Many of you did explore here and had no trouble finding how many grandkids I had to answer Wednesday's question. More of you had trouble finding that sweatshirt quote. But I promise it's out there. Hint: try a devotion. You can throw your name in my drawing hat for a couple more weeks. Please leave a way for me to contact you. Some of you didn't do that last week. If you have difficulty leaving a comment here or would rather enter by e-mail, you can click on the contact me link and send a message.
If you commented and entered on the last post, you can get an additional entry by answering this week's website question. How many Shaker books have I written?
If you haven't yet entered, now's your chance. I'll pick three winners who will get their choice of one of my books. Remember, you have to leave a way for me to contact you should you be one of the lucky winners. Deadline for entries is midnight EST August 1, 2015. You must be eighteen to enter and winners will be selected by random drawing.
As always, thanks for reading.