Change, like sunshine, can be a friend or a foe, a blessing or a curse, a dawn or a dusk. (William Arthur Ward)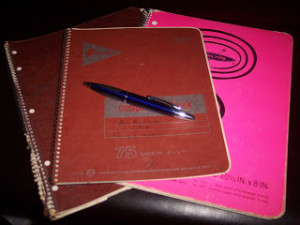 Change – sometimes it's good. Sometimes it's not. But it's inevitable. My mother used to tell me that the one thing we could be sure of is that things will change. That's just life. We get older. Our children grow up and get married. We joyfully become grandparents. We do our jobs. Sometimes we have to change jobs. Sometimes we don't change jobs but we change how we do those jobs. I've certainly changed how I write over the years. I hope I've improved. Actually I know I'm a better writer than I was when I started my first book at age ten. But I'm not really talking about the change in my skill. I'm talking about how the process of getting words on paper to tell a story has changed. Even that phrase is no longer exactly accurate. The words aren't flowing out of a pencil or pen onto paper. They are going up one letter at a time on a word processor. That's a monumental change from how I began writing. That was in a wire bound notebook with an ink pen. I loved my fountain pen when I was a teen. Had to have blue black ink that I bought in a glass jar. I don't remember what it cost.
Some Things are Worth Breaking the Piggy Bank
Then I got my first portable typewriter by breaking my piggy bank and counting out my nickels and dimes to buy a used portable from one of my older sister's friends. I can still see those pennies and other coins stacked up to count toward the twenty-five dollars I paid for the typewriter. I used that typewriter for years, but then I graduated to a big office manual typewriter. I don't remember where I got it, but I'm sure it was used too. Next came an IBM Selectric typewriter bought used, of course, from an office that was replacing their typewriters with newer models. At last I made enough money writing to buy a brand new electric typewriter with a correction ribbon. I thought I had found writer's heaven. I still have that typewriter up in the attic. I don't think it works, but I have it anyway. Then again, I still have that very first portable around somewhere and half the keys are messed up on it.
Change can be Stressful
Finally, I entered the modern age and got a word processor – again from an office that was getting new equipment. All I knew how to do with that was turn it on. It had no instructions with it. None. The book, DOS for Dummies, saved my sanity and helped me figure out how to used the system. I don't have that old computer anymore. In fact, my grandson took great joy in dismantling it to see its innards when he was around seven or eight. Several computers followed in its wake until the one I'm using now that I did purchase new. And now, I'm ready to start shopping for a new, more powerful model. Computers age quickly in this day and time. Sometimes getting a new one ages me quickly too!
Change is Part of Life
All that to say that change is inevitable in our day to day lives. And on-line too! My website just got a complete makeover. Same way to get to it. www.annhgabhart.com. Still has lots of information about my books and about me. Lots the same and at the same time, much changed. So how do you like it? One major difference is that now my blog will be part of the website. I hope that makes it easier for you to check up on what's happening here. And while I'm changing, I'm going to make another change to and start posting once a week instead of twice a week. Twice was probably more than most of you wanted to read anyway. So watch for a new post late on Sunday or early on Monday.
A New Giveaway to Celebrate a New Website
But we'll still have our contests and book giveaways here. In fact to celebrate, I'm going to have a new giveaway right now just for you who visit One Writer's Journal and check out my new website. All you have to do to enter is leave a comment telling me what saying is on my sweatshirt in one of the pictures or if you have trouble finding that, you can tell me how many grandkids I have to get an entry to win your choice of one of my books. I'll pick three winners. Remember, you have to leave a way for me to contact you should you be one of the lucky winners. Deadline for entries is midnight EST August 1, 2015. You must be eighteen to enter and winners will be selected by random drawing.
As always thanks for reading.