Better Late than Never
At least that's what we tell ourselves when we show up late. I'm late with this post and you can maybe see the reason in this picture. The grandkids have been to visit and stay a few days. They can keep this grandmama hopping. They've gone home now, but they had lots of fun.
Well, this front runner had fun until yesterday when she came down with some kind of bug. Sick, sick all day long. Couldn't even hold down ginger ale. Now I'm a little worried that her little bug may have hopped around to me. But so far I'm holding my tea down. She was a very brave kid. Suffering in silence mostly and handling being sick very well. But it did put a damper on her fun. Thank goodness we already had the promised fishing trip done the day before. And all the kids caught fish. She said she caught the most at seven and the boys caught five or six. I lost count, but I have the feeling she would have counted up more than the boys no matter. After all, she's their big sister and should catch the most. LOL.
One More Blog Contest to Win a Book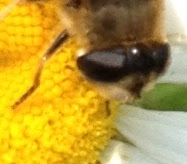 So how about an easy mystery picture puzzle for the last blog contest? (Well, last right now. I'm sure I'll have more later.) Just leave a guess on what this is and you'll be entered in a drawing for your choice of one of my books.
Remember the guess doesn't have to be right to get an entry. Any kind of comment will do, but it's fun to guess. And so can you tell me what this is?
Sunday's Winner


I guess it's time for me to tell you the winner from Sunday's "Tell me about your Dad" drawing. By the way, the Dad stories were fabulous. If you didn't read the comments on my Sunday post, then you should go back and read them. Those who shared about their dads really helped us get to know some great guys. Deadline for entries is 6 p.m. EST on Sunday June 28, 2015. You must be 18 to enter.
Oh yeah, you wanted to know the winner, didn't you? Drum roll please. And the winner of her choice of one of my books is Sharon M. I'll be in touch, Sharon.
Thank you all for reading and for playing my flower (and Dad) games.