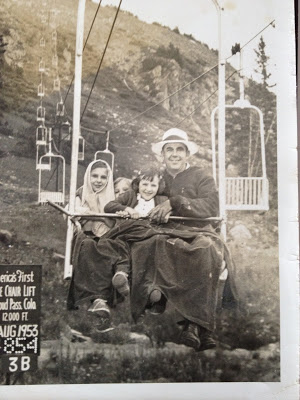 Everybody needs a dad. That somehow is not the same as a father. A father is something we all have. But somehow when you say Dad it changes that father into someone you can run to when you skin your knee or when you need your bike handlebars tightened or to give you a boost up into a tree. Or to take you on a ski lift when you're five. I don't really remember the ride, but I love the picture.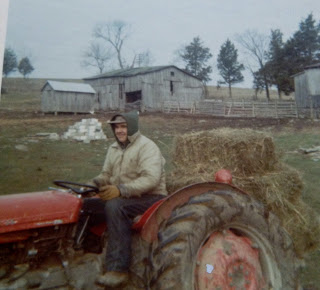 My dad was a farmer. He worked hard, growing crops and tending cattle. We had hogs, cows, sheep and chickens. Dad sold cream before I can remember and then later milk in metal milk cans. Mom traded eggs for groceries at the local country store. We made our own sausage and salted down our hams and cooked our lard. We had a freezer full of beef and a cellar full of potatoes and canned vegetables and fruits.
I remember Dad on a tractor, feeding the cows or taking care of whatever needed doing at the time. He built a barn by himself. He repaired the roof when it leaked and sawed our wood for the stove. He liked to play cards and was serious about winning. He pitched horseshoes and was hard to beat. He played clay court croquet in a league. He went on a motorcycle to Oregon when he was twenty-one. He didn't marry until he was almost thirty. He was a good dad and I miss him.
The Flower Mystery



None of you guessed that the flower last week was a wild rose. And I thought you'd all figure it out. But I'm glad a few of you threw your name in the hat for a book. The odds were really good for you, but of course, I still only drew out one number. Linda Mc, you were my lucky winner this post. I'll be in touch to find out what book you'd like to have.
New Game – Tell Me Something Your Dad Liked


Not really a game this time. But if you leave a comment and tell me something your dad liked then I'll throw your name in the hat for this post's contest. Deadline is Wednesday at 7 p.m. EST. And then I'll have one last blog book giveaway game posted Wednesday night. We'll have a new flower game of some kind maybe. Remember, you have to be 18 years old to play.
Contest to Celebrate The Innocent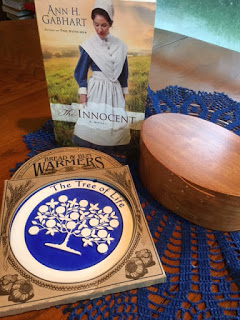 I also sent out a newsletter with a contest to celebrate the release of my new Shaker book, The Innocent. If you'd like to throw your name in that hat, check out the Shaker prizes and how to enter at www.annhgabhart.com/events.html. But meanwhile back here at the farm, er blog, you can make a comment to have a chance to win your choice of one of my books.
And as always, thanks for reading!