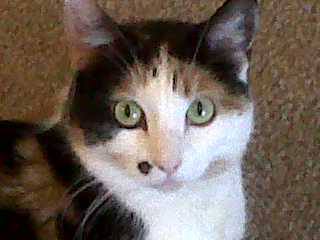 Maggie Monroe
Callie
Thank you, everyone, who suggested a name for the calico cat who is going to make an appearance in my third Hidden Springs mystery, my work in progress. I have so many great names now that I can name a few hundred cats, and I love them all.
I not only got name suggestions I got pictures to spur my imagination about what my fictional cat is going to look like and perhaps hints about her personality.
But back to the names. Callie/Kali/Cally was by far the most popular suggestions followed by Patches. Some of you said that Callie was the only name. Others of you said name the cat anything but Callie. Some suggestions were for Calico something, like Calico Zoe, Calico Liz, Calico Jo or Kelly the Calico. I had actually considered Calico Jane.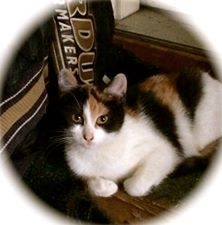 Hissy Fit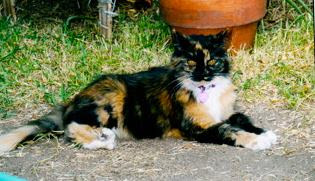 Kate Tippi Toes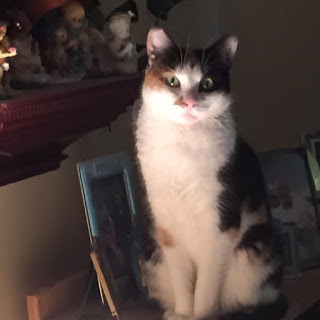 Stormy
A few of the more interesting suggestions were Hissy Fit. That cat's picture is here and her owner says the Vet says of course her cat has attitude. It's a calico. Kate Tippi Toes might fit in that category too. She was named after Kate Hepburn who never lacked for attitude. We had Coquelicot (French for poppy); Miss Priss; Pumpkin; Izzi; Stinkerbelle, Rainbow; Calicat; Rags; Puzzle; Kitty Boo; Cosie; Cali Lily; Crazy Quilt; Blotchy; Butters; Sassy; Sunny; Calliope; Sparkle; Queenie; Butterscotch; Moon Doggie, and many more.
I liked J.C. for Just Cat, Heinz 57 for all the colors, Marmalade for the orange, Muslin and Cotton for Calico cloth, Maple, Pandora for all the colors let out of the box on the cat, Stormy because of the clouds of black perhaps, and Perfect because every cat thinks she's perfect.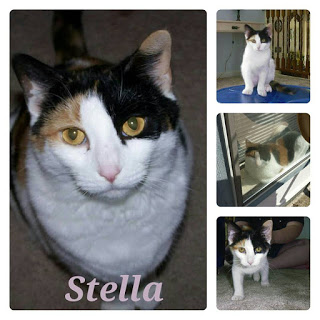 Stella
One of the cats pictured is Maggie Monroe. I think her beauty mark tells you how she got her name. Then there were the regular people names because cats know they are people just like you names like Stella, Lucy, Wilma, Angie and Martha.
So many names and great looking calico cats that I may have to write a dozen stories starring calico cats. But whether I do that or not, I have enjoyed all the names and meeting some of your cats. Thanks so much for sharing their pictures and names.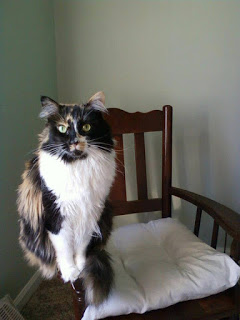 Zita
Meanwhile, my cat still goes unnamed. I'm juggling all the suggestions and wobbling first one way and another with a name. But I do have many great ideas now. I just need to show them all to my elderly character, Miss Fonda, who is actually going to be the one to pick a name.
So what's in a name? Do you have a favorite among these names I've mentioned here?
And I am going to get that flower contest organized and give away some books Sunday. At least that's my plan, but you know what they say about "best laid plans."