Mothers hold their children's hands for a short while, but their hearts forever. ~Author Unknown
I'm missing my mother today on my first ever Mother's Day without her. As most of you know, Mom went home to be with the Lord in July last year. She had walked a tough path of dementia the last few years of her life. But today I'm missing her smile. Mom enjoyed life. She loved her family and took joy in her grandchildren and great grandchildren. She had so much love in her heart as most mothers do. So I hunted up a couple of pictures showing her with lots of smiles.
Honor Mom Giveaway Contest


To honor Mom's memory this month, I'm having an Honor Mom Giveway Contest. I sent out the details of the giveaway in a newsletter yesterday. (If you didn't get it, but would like to, you can let me know and I'll add you to my e-mail newsletter list.)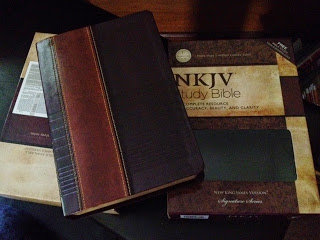 1st Prize
1st prize in the contest is a beautiful New King James study Bible. What mother wouldn't like that or wouldn't like for you to win that? That winner will also get his or her choice of one of my autographed books.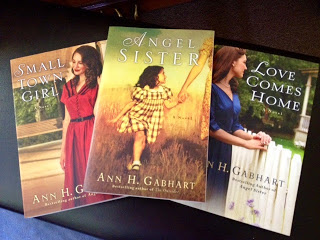 2nd Prize
2nd prize is an autographed set of my Rosey Corner books, Angel Sister, Small Town Girl, and Love Comes Home. I picked those as a prize since Mom and all the stories she told me about growing up during the Great Depression were the inspiration for Angel Sister. Some of you may already have the books or have already read the stories, but I'm sure you have a reading friend who might enjoy the stories too should you win.
To Enter


To enter you can send me an e-mail at annhgabhart(at)hughes(dot)net or leave a comment here on one of my blog posts in May with a way to contact you should you be a lucky winner. The deadline for entries is midnight EST on May 30, 2015. The contest is open to USA and Canada. (Sorry, international readers, but that Bible is heavy.) Also, you must be 18 to enter.
If you want, you can share a favorite Mother's Day memory with me. That's not necessary to enter, but we always have fun sharing stories here.
A Mother's Day Story


Some of you have already entered and shared some stories. This one from Janet made me reach for the tissue box.
"My first Mother's Day without Mama
was 2 years ago. As you said, you knew your Mom loved you even though she couldn't
say it.
My Mother who also had Dementia fell 2 days before she died. I
went into the ER room and told the doctor she was my Mom. As soon as my mother
heard my voice, she said, "Is that Janet"? I had not heard Mama say
my name in 3 years. She knew I was her daughter but she didn't know my 2
sisters. She only knew them as very nice ladies who were taking care of her.
My favorite Mother's Day memory is being with her at the church
she went to. She would see me sitting in the pew and her face would just light
up. Oh, how I miss that!
I better go blow my nose and wipe my eyes. It's hard to type and
cry at the same time."
Thank you for sharing that with us, Janet. That had to be a heart gift to you to have your mother speak your name.
Thanks, everyone, for reading.