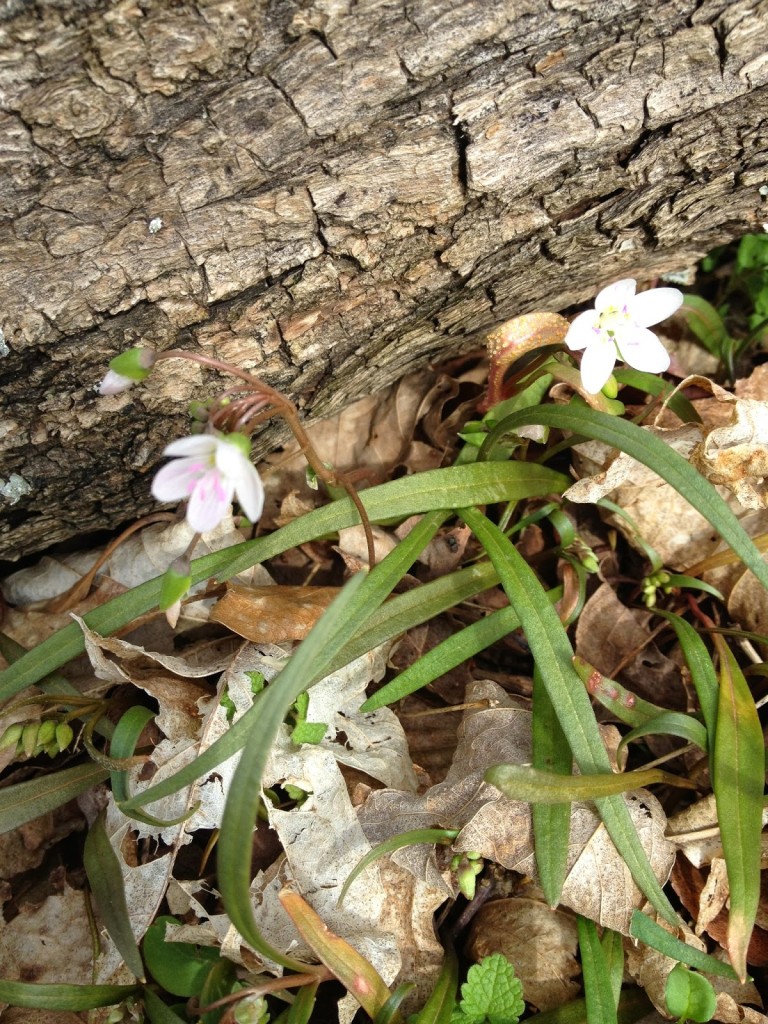 "No winter lasts forever; no spring skips its turn." (Hal Borland)
"Winter lingered so long in the lap of Spring that it occasioned a great deal of talk." (Bill Nye)
I'm wishing I could spot some little spring beauty flowers like those above, but not yet this year. Those little blooms are still sleeping under the snow that has stuck around way past its welcome. But it's a good thing we don't have to find our happiness in the weather. While most of the poems I've received with entries to my Roses are Red Contest that's going on now, have been simple four line verses, a few readers have shared poems that put my amateur rhyming to shame. So tonight I'm sharing them with you.
Happiness by Nona

Happiness comes from many places.
Singing birds and familiar faces.
A hug from a friend
when you are blue.
Lifting of the heart
when your love is true.
Sitting in the shade by a
babbling brook.
Cuddled into a chair
with your favorite book.
~~~
Lovely poem, Nona. Peggy stayed with the Roses are red theme but made it so much more as she looks forward to Spring.
Roses are Red by Peggy
Roses are Red
Violets are Blue
When this Winter is through
The flowers will shake, and open their heads
Their colors are grand
Some smell pretty, too
Let's strike up the band
For those Violets of Blue
For those buds I will look
As they peek through the snow
While I watch from atop my book
As those zero winds blow
Roses are Red
Violets are Blue
Dear God – Bring the Springtime
We need something new!!!
~~~
Last we have a true Valentine love poem from Sandi.
What is Love by Sandi
What is love…
where does it go…
Is it a vapor not unlike
the snow,
Does it drift lazily
down from the sky,
piling around us until
it's quite high,
Does it make choices or
caress all the same
and when things go wrong
is it always to blame…
Is it like
the seasons that blow hot and cold,
Does it laugh lustily at
all those it's fooled,
The fragrance it leaves
is dispelled by none,
It lingers long after
the romance is done,
If given the chance,
would you risk it again,
Treating it tenderly like
an old friend…
Not taking it for
granted, but being thankful each day,
That no matter how
brief, it once came your way???!!
~~~
Indeed we can be thankful when love comes our way. Thanks, ladies, for sharing your talent with us.
The contest is still open. You can see the prize (a heart-shaped necklace and winner's choice of one of my books) on my
News and Events website page
. You can enter by leaving a comment on a post here (with a way to contact you) by midnight EST on March 3, 2015. Thanks to all who have already entered and shared a poem too. You don't have to share a poem. That's just to add a little fun!