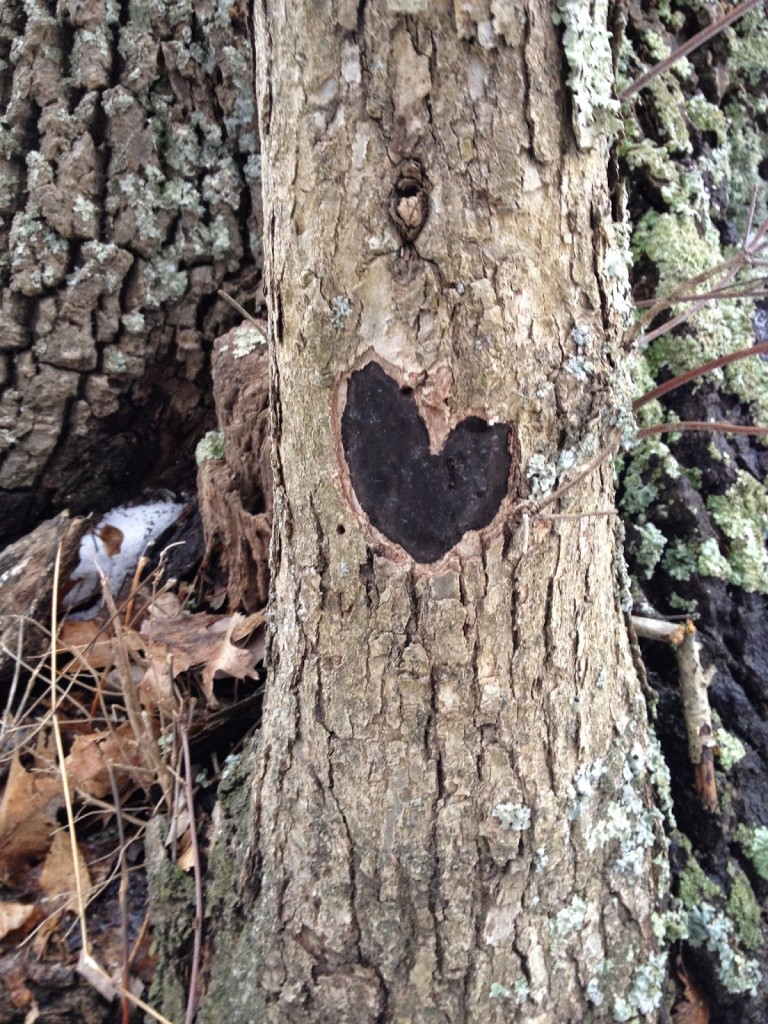 Happy Valentine's Weekend!
Here's a natural valentine I spotted on one of my walks some time last year. I've been saving it for this day. A day late, I know, but we can celebrate love any day, can't we? As far as I know, nobody carved this heart in this tree. It just happened. A gift of nature. But then again, maybe a romantic squirrel chewed off the bark for his squirrel sweetheart. But however it got there, I thought it was neat. It's actually along the road in front of a neighbor's house and not too long ago, he cut it down. So alas, the heart is gone now, but we still have the picture.
I've always liked Valentine's Day. I used to be a room mother at the schools when my children were young, and Valentine's was my favorite holiday party. Every kid got cards and cupcakes. Of course, things might have been simpler then. Certainly, there weren't dozens of bouquets delivered to the schools for this or that sweetheart the way I've heard happens now. Just cute little cards with hearts and some of those heart shaped conversation hearts. Pure sugar, so naturally I liked them. The pink ones were definitely best. 🙂
Some people say Valentine's Day can be sad when a person isn't part of a couple. It is nice to have somebody giving you flowers and candy. But I like to think of Valentine's Day as more than a day for sweethearts. It's a day to think about love in all its wonderful ways. A good day to share hugs with your kids and grandkids. Well, any day is a good day for that. It's a great time to share a special day out with a friend or to call your mother or a special aunt. It's a fine time to read 1 Corinthians 13 or 1 John 4 in the Bible. It's a good day to remember all the ways you are loved and to remember all the people you have loved even if some of them are no longer here with you. And if you don't have somebody to buy you flowers or candy, it's a perfect time to treat yourself to the flowers and candy you like best.
And it's a good time to share a crazy picture of a heart on a tree that made me feel some love for nature.
I do appreciate all of you who have volunteered to help me out with my upcoming book release. I am working to meet an editing deadline on a book and haven't had time to respond to each of you as yet. But I will next week. I've got all your names written down and I have to say you were like a special Valentine to me with your readiness to offer to help. Thank you so much.
Now if you have any spare chocolate laying around, savor a few bites and enjoy the memory of a happy day.
Thanks for reading.