Thanks to all of you who made my mystery picture contest so much fun. I enjoyed all your guesses. The right ones were good, but the wrong ones were fun. So just for fun here is a last mystery picture. This one isn't for prizes. I didn't use it because I really didn't think it would be fair, but you might be really good guessers or you might have walked through the same neighborhood in SC that I did and spotted this. So guess for fun and then for even more fun scroll down to the bottom and see the "rest of the picture."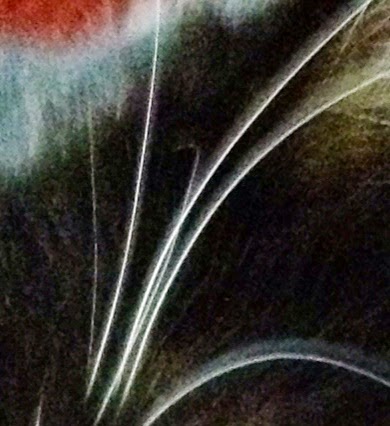 As for the last mystery picture, it wasn't a total mystery to many of you. Several of you guessed feathers, especially peacock and ostrich feathers, but that wasn't right. Robin guessed a feather duster. Ola thought maybe I had a close-up of Oscar's whiskers. But no, those of you who went with cat whiskers were right. I admit that I left a little of the red rug in the photo to try to trick you and for some of you it worked.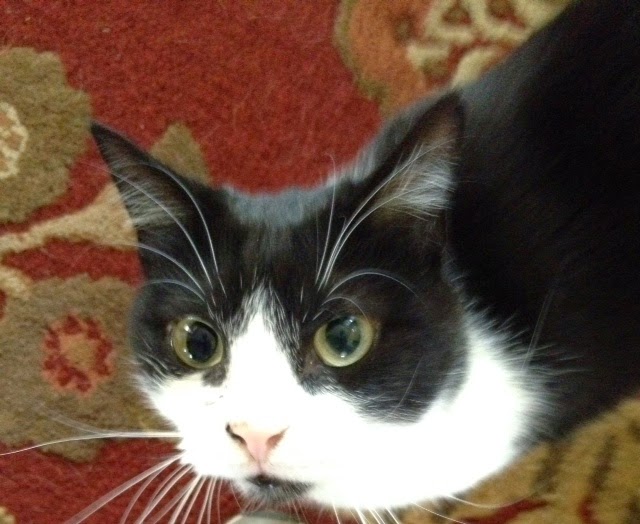 Here's the rest of the mystery picture.This is my daughter's handsome cat, Finn. Those of you who hang out with me over on my Facebook page may have seen him on there last week taking time to "smell the flowers."
So here are the three winners:
Susan J of TX who decided to go with two of my Shaker books, The Blessed and The Believer.
Donna B of IL who chose Christmas at Harmony Hill and for her grab bag book, Wake the Dawn by Lauraine Snelling.
Stacy O was the other winner. I haven't heard from her yet, but have tried to contact her via Facebook. If I don't hear from her before Wednesday, I'll pick someone else.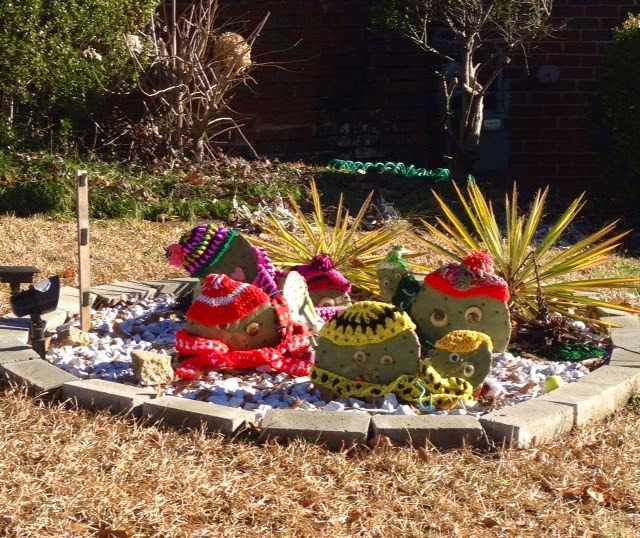 Now here's the rest of the just for fun mystery photo. Somebody a few streets over from my daughter's house "dresses" her cacti according to the season. I've seen stone geese dressed up for the weather, but never cacti. She even had them named and a little mailbox for them. I'm guessing she, but maybe the cacti owner was a he. I didn't meet the owners, just the cacti. Anyway, they were named Prickly, Stickly, Thornie & Youchy. I'm sure she may have said all their names several times while dressing them for winter. 🙂
Thanks again for joining in my mystery photo fun. You guys are the best. I'll have to think up something new soon. But first I need to do some major brainstorming to come up with a new book idea!!