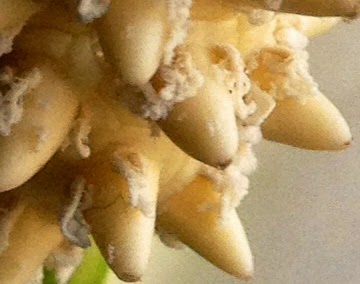 New Mystery Photo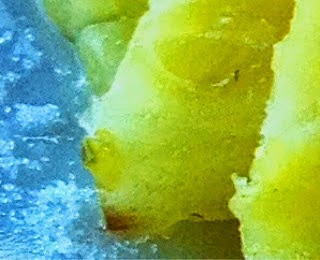 Great Guesses
You all are the most fun! Love the guesses and I have to admit that I'm glad I did finally trick a few of you with my mystery picture. I still think it sort of looks like a fish head and NOBODY guessed anything near that. But somebody did guess a caterpillar under snow. That has to be the most creative guess so far although the yellow snow the result of a polar bear passing by was certainly very interesting!! Or at least, entertaining.
We actually had snow Saturday here. I happened to be out of state visiting my daughter in a state to the south and missed it, but wow, the photos I saw on Facebook were gorgeous. Still, I didn't see any of polar bears in our area. LOL. Thank goodness!!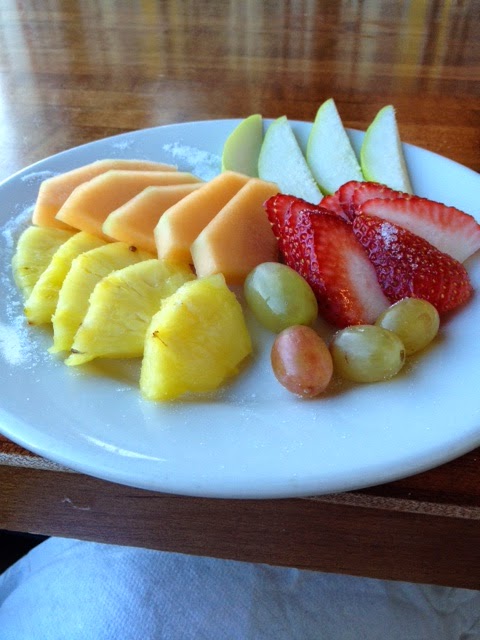 There were also guesses of Angel Food or lemon sponge cake and one of you simply guessed a lemon. I can see all those guesses. I liked the one where you suggested the pineapple was floating in a bowl of punch for a baby boy shower. A baby boy because of the blue, I'm sure.
The Rest of the Picture


As you can see from the "rest of the picture" posted here, many of you were right when you guessed pineapple. That was a nice plate of fruit I got at Bistro Restaurant inside JosephBeth Bookstore last week. I had one of those doctor appointments where they order you to skip breakfast. So, I mostly went in to get a cup of tea for a bit of a caffeine fix at the Bistro, To my distress, they were out of black tea. So I settled for fruit. I need to carry tea bags in my purse the way my agent does. She orders a cup of hot water and then brings out a sleeve of tea bags. I would have been happy with one plain old Lipton bag. What some of you thought looked like "snow" in the picture is actually sugar I sprinkled on the fruit. A little sugar always makes things better. 🙂 And a cup of black tea! Of course, just getting to go to the bookstore is a treat.
On to the Next Challenge


So now on to the next challenge. Know what the picture up top is? If the first guesser gets this one, I may throw in the towel and give up on ever tricking you all!! My daughter and son-in-law kept suggesting I take a picture of this or that to make into a mystery photo while I was visiting them this weekend. I did not take this one in SC. That's the only hint I'm giving you. You don't need hints. You always guess right!
But right or wrong, a guess or even a "what in the world is that" gets you another entry into my drawing for one of my books and a grab bag book by a different author. Remember, if you are overseas, you can only win an e-book. You have to be 18 to enter. Feel free, however, to enlist the help of your kids in the guessing fun to figure out the photos. Please leave your e-mail or a way I can contact you just in case you are one of the three lucky winners.
And thanks for guessing and joining in the fun. One more mystery picture on Wednesday and I'll draw for the winners on February 1st. Each guess on a different picture gets you an additional entry.