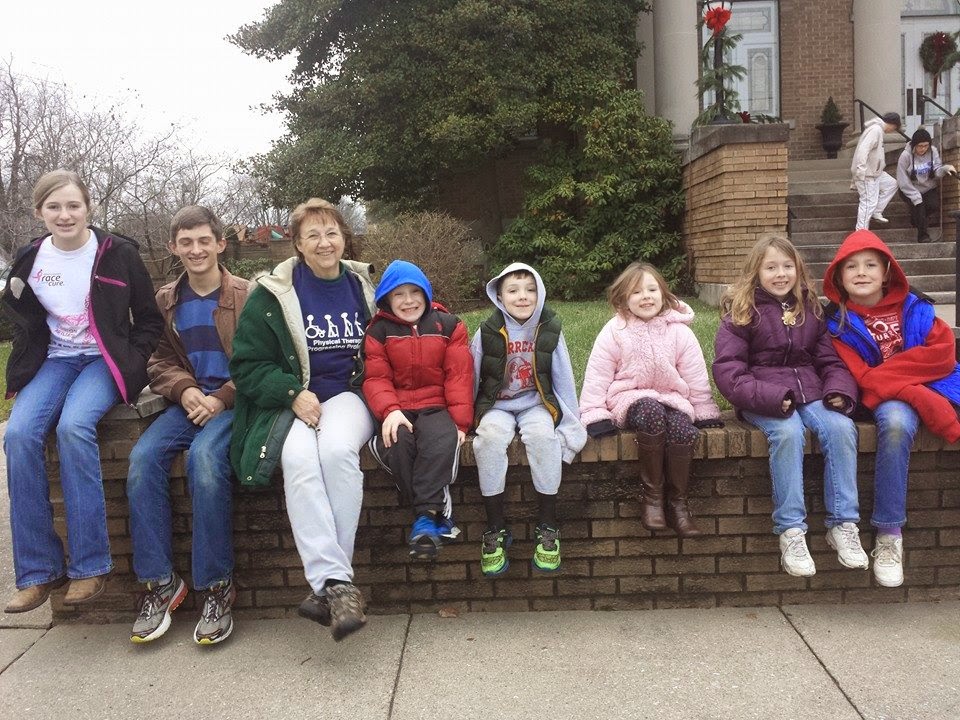 A Small Act of Grandparent Bravery
I got extraordinarily brave Saturday. I was keeping three of my grandkids including my twin grandsons who at the age of six must drink high energy water every morning when they pop out of bed. That energy doesn't run out until about fifty "go to sleep" orders have been issued well after dark. That wasn't the brave part. The brave part was that I took them to our local town's Christmas parade. It helped that my other son and his family was there to help me keep an eye on the kids.
A Small Town Parade

I was a bit concerned disappointment awaited in the wings when, before we left home, one of the boys started talking about how we might be on television. Not until he mentioned seeing the big balloons did I realize he was thinking we were going to be on the sidelines of a parade like the Macy's parade he'd watched on Thanksgiving. Their cousin, my older grandson, and I tried to ratchet down their expectations without totally stealing their excitement.
We found our viewing spot in front of one of the churches, and then had to wait for the parade. And wait. And wait. Waiting is not what these two kids do best! Plus, it was cold. Before we spotted the police cars' flashing lights or heard the marching band's drums, the boys were ready to give up on the parade ever coming and call it a night. But I persevered. I'm good at that. Maybe eventually they will be too.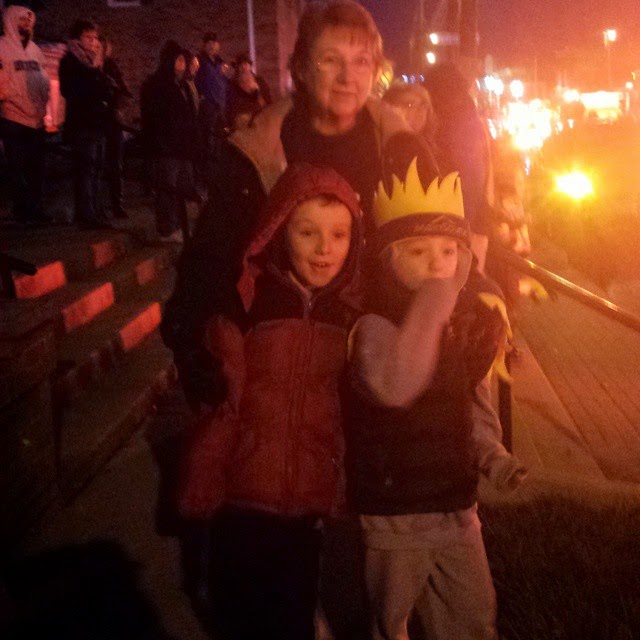 Do we see Santa?
Finally, the police cars came, sirens sounding to lead the parade. The kids spotted Grinch on one of the floats and the Nativity scene on another. Santa finally showed up too, riding on a firetruck. My daughter-in-law took this picture as the boys were peering ahead to catch sight of Santa. Kids are such fun at Christmas time. And even better, when we took them to church Sunday morning and our pastor asked the kids why we celebrated Christmas, one of the boys was eagerly ready with the answer, "to celebrate Jesus being born."
A New Christmas Contest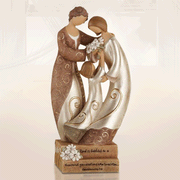 Christmas is a great time for thinking about giving and so time for me to have a Christmas Giveaway Contest. If you get my newsletter, you may have already read all about it and entered. I sent out the newsletter Friday to share that my book, Christmas at Harmony Hill, was a free download for twenty-four hours. The free is gone, but the e-book price is reduced for a while longer if you would like to check it out at your e-book provider. Christianbook.com also has the hardback copies at an even cheaper price.
Amazon Kindle
Nook Books
Christianbook.com
If you'd like to get my newsletter (more book freebies and contests are on the horizon) and aren't signed up, just let me know or sign up here.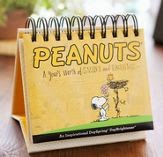 The newsletter also let readers know about my Christmas giveaway. Since many of my books deal with family relationships, I picked the lovely three generation
figurine above for first prize. Plus the winner will get his or her choice of one of my autographed books. Second prize is the Peanuts perpetual calendar with
smiles waiting on every day and also the choice of one of my books. To enter, you can leave a comment here with a way to contact you via e-mail or Facebook (without this important information I can't find you should you be a winner) or send me an e-mail (annhgabhart at yahoo dot com) and I'll throw your name in my giveaway hat. Any e-mail will do, but for fun, you can tell me your favorite thing about the Christmas season. Deadline for entries is midnight EST December 31.
You must be 18 to enter and have a USA or Canadian mailing address.
Next time, I'll come up with something not so hard to mail to include
you international friends.
Last Week's Winner of the Christmas Stories
Carolann won last week's giveaway – the Christmas stories. Rose McCauley's Christmas Grace, and my Christmas at Harmony Hill. Thanks to all of you for your comments. It's always fun hearing what you have to say.