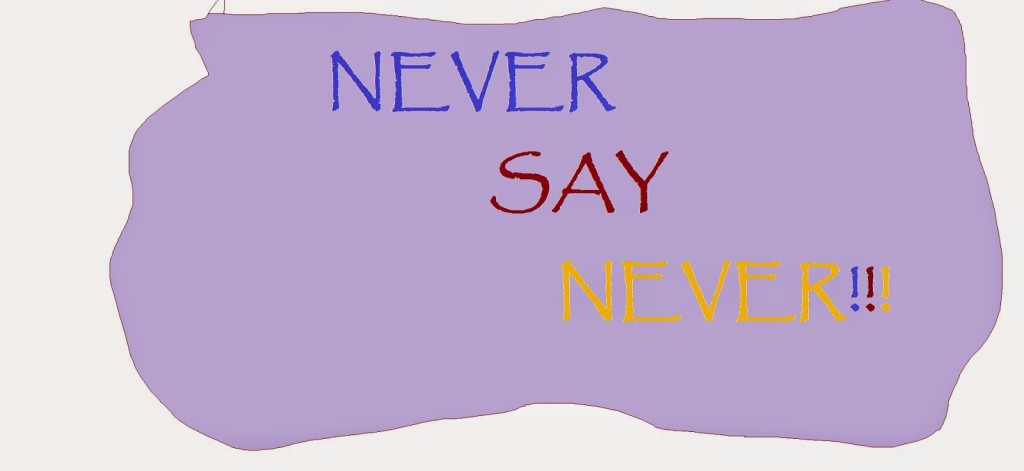 How many of you have told yourself or others to "never say never?" That's an especially important thing to remember when you're talking about your kids as in my kid would NEVER do whatever wrong thing we're seeing some other kid do. Experienced parents don't let that my kid will never do words out in the open. But people who have yet to be blessed with children are often heard uttering those words. Such words generally come back to haunt whoever says them because you never know what kids will do in spite of every good parenting intention.
But one thing I thought I was safe in saying was that I would never have a tattoo. Just not my thing. I don't even have my ears pierced. Couldn't see any reason to add extra holes to my head. 🙂 And I'm the wrong generation to look fondly on tattoos, but there is that never say never. Today I got a few little black tattoos to mark where I will be getting radiation treatments in a few days as a precautionary treatment after my lumpectomy. No cute butterflies or initials or flowers. Just black dots. Even so, they are a tattoo that will be there forever. So that never I said became a guess I will.
I did get good news today along with the tiny tattoo dots. No need for chemotherapy. Guess my hair is safe, but I was imagining it coming back in curly or maybe red. I know many of you have undergone chemo in your treatments and I know you've been strong and done what was necessary to fight your cancer. I appreciate all of you who have shared some of your experiences with cancer treatments. My little tattoos hardly compare to what many of you have gone through. While no cancer would have been the best, so far all my tests have come back as good as they could once that diagnosis was made. Caught early. No lymphs nodes involved, and now no chemo. Plus, the doctors and technicians have all been super. Thanks for all your prayers.
Now how about a couple of birthday stories? It's almost time for me to draw for the winners of my Birthday Celebration Giveaway. If you haven't thrown your name in my drawing hat, you have until September 30 to do so. Just leave a comment here with a way to contact you, either your e-mail or if you have "liked" my author Facebook page, I can contact you from there if I have your name. Three winners. One $50 gift card and a book. Two $25 gift cards and books. See complete details on my Events page on my
website
.
First Alla shares about being tired of NEVER having a birthday party, so she takes care of that by throwing one for herself.
When I turned 50, I decided I was going to have a birthday party. I had never had one, so I decided to throw myself one and started calling all my friends and family. My youngest daughter lived in Denver at the time, so she flew home to help me celebrate. When I picked her up at the airport we waited at the terminal for her luggage and much to my surprise I see this 60's looking lime green luggage coming toward us. I said "Look at that cool bright luggage. Isn't that awesome?" She said "Well, I am glad you like it since that is your birthday present." I will never forget that as long as I live. She had put a collapsible bag inside with all her clothes, because that is the only way she could figure out to get it here. She had also brought her guitar and my youngest brother joined in "picking & grinning" with her at my party. That is the only actual party I have ever had in my life, but was so memorable, it will last a lifetime!!!!
And then Rebecca shares a special birthday story about a friend.
I have a wonderful birthday story about a friend of mine and her husband. The husband had been on a kidney transplant list for over 5 years, while his quality of life slowly slipped away. He is a husband, father, brother, son and papa to his family. A few months ago they finally got THE CALL and his kidney was waiting for him. The amazing part is…my friend got the greatest birthday gift she could of ever asked for, because on her birthday, her husband received a kidney transplant. It has changed their lives and once again he is able to be active and live life to the fullest.
The gift of life. Thank you, Alla and Rebecca, for sharing your birthday stories with us. And thank all of you for your prayers and good thoughts. Such a lot of positive energy coming my way from you. You're the best.