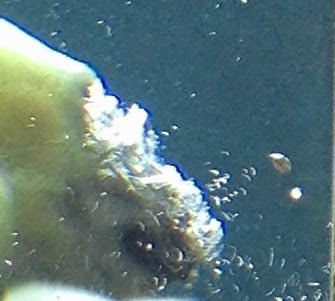 Are you ready for a new giveaway? I've got books that want a new home. The prize is an autographed copy of Karen Kingsbury's The Chance and the winner's choice of one of my books shown in the photo below. And you can have my autograph too. Mine is sort of plain compared to Karen's interesting autograph. She must have taken lessons from her doctor, but I saw her sign it. So I know it's hers. lol.
To enter, all you have to do is make a guess about what the picture is. It's more fun if you don't read everybody's guesses until after you make yours. Besides, they might be wrong. Besides again, you will be entered in the drawing whether you're right or wrong. The guessing is just for fun.
I can't decide whether this mystery picture is too easy or not. I guess we'll see. I'll post another mystery picture on Wednesday and if you guess on that one too then you'll have an extra entry in the giveaway. I'll announce the winner on next Sunday's post (August 3). The contest is open to U.S.A. and Canada only and you must be 18 to enter. Please leave a way to contact you. If you're a Facebook friend who has liked my Facebook page, I can contact you that way if you tell me your FB name. Otherwise I'll need your e-mail contact. You can guess without leaving contact info, but you can't win the books. Finally, if you can't get the comment to go here (I've heard some of you say you have problems commenting on my posts), then you can send me a message on my Facebook page or send me a direct e-mail at annhgabhart(at)yahoo(dot)com.
The Revell sponsored giveaway of 5 copies of Love Comes Home is still going on at the Book Fun Network. All you have to do to enter is answer one of my questions. And if you'd like to know more about the inspiration behind my Rosey Corner books, you can check out my guest post on Finding Hope Through Fiction.
Also, if you haven't downloaded Scent of Lilacs, it's still free and getting new reviews on Amazon and other sites almost daily. If you've read it and enjoyed the story, let your reading friends know that they can get it for free on their e-readers.
Last, I do so appreciate every one of you. I appreciate your kind words and all your prayers for Mom while she was ill and for me and my family after she took off for heaven. I dreamed about Mom last night. She was still sick, but she knew me. I think in her heart, she always did. The dementia just blocked it from rising to her conscious thinking.
Thanks for reading and I'll look forward to your guesses. If you all get this one right, I'll try to come up with something harder on Wednesday. 🙂