"There is something inspiring and sublime about the little forget-me-not flower. I hope it will be a symbol of the little things that make your lives joyful and sweet." ~Dieter F. Uchtdorf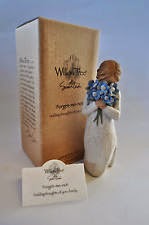 Thanks to all of you who have commented here or entered my celebration contest via e-mail. I love hearing from my reading friends and have more fun when I'm not the only one doing the "talking." Some of you have great stories to tell and I'm always honored when you share them with me and then allow me to share them forward here. This time for my celebration of
Love Comes Home
, I suggested sharing a homecoming story or some special family story. Noelle, who has shared stories with us here before, had one that really fit one of my prizes, the Willow Tree Forget-Me-Not figurine. I don't have any forget-me-not flowers in my new Rosey Corner story, but you'll see the connection when you get a chance to read the story. By the way, I've added
Love Comes Home
to the
Rosey Corner page
on my website now where you can read about the story and sample the first chapter.
But on to Noelle's forget-me-not and very romantic story. Here's what Noelle says:
The Willow Tree series is so beautiful but this particular
figurine reminds me of a very special man…
At 6′ 3″, Bonpapa (affectionate form of GrandPa in French)
was a striking figure, blond with green eyes like emeralds. On this particular
summer day in 1927 whilst vacationing on the seaside, he rescued a young woman
(on the main staircase of the hotel her family owned) from
unwanted attention.
A widower and the father of a small girl, he soon fell for the
striking dark haired, dark eyed young woman. A rebel (even by our standards
these days), she thought to chase him away and surprised herself by not only
going on a date but telling him her life story: She'd lost the love of her life
in a motorcycle accident only months before and just given birth as an unwed
mother to a beautiful little girl.
The rest of the story? Well, he convinced her to marry him of
course and the baby girl was not just adopted but loved by this man as the
apple of his life. There were other children later on but no one was more proud
than him when he presented her as his daughter!
As to the Forget Me Nots? On their first date and each subsequent
wedding anniversary (but for the duration of WW 2), he offered his wife, my
grand'Mother a little posy of these precious flowers… In 1960 when he passed
away much too soon (having lost a lung to mustard gas, he lived with only one
lung ), she made sure his grave would have perpetual Forget Me Nots and thus
they bloom still to this day.
Sigh. Now, isn't that so very romantic? The kind of thing you might find in a romance novel. I think that could be the main plot in a romance novel. Maybe Noelle has already written that or is going to. One thing for sure, Noelle had a extraordinary grandmother. Thanks, Noelle, for sharing stories about her with me and allowing me to share them with my reading friends here.
Remember, I've got the two contests going. The first one you enter by sending me an e-mail or with a comment here. Two prizes, the forget-me-not figurine and a beautiful heart necklace plus one of my books, and if you're one of those never win people, then you tell me that and you'll be entered in a special drawing for a Prayer Journal and one of my books. You can only enter that contest once. (Complete details on my News & Events Page)
I'm also giving away five books here to my blog readers only. To enter the blog only contest, just leave a comment on any blog post before the end of June. Each comment on a new post gets you a new entry. Remember, you have to be eighteen to enter, and the paper book is for USA or Canada only, but if you live overseas, you can win an e-book version of one of my books. Plus, right now, you can still download the e-book of Scent of Lilacs free. 322 Amazon reviews so far and the vast majority have been kind. Whew! That's always a relief.
"And the day came when the risk to stay tight in the bud was more painful than the risk it took to bloom." ~Anais Nin
Save