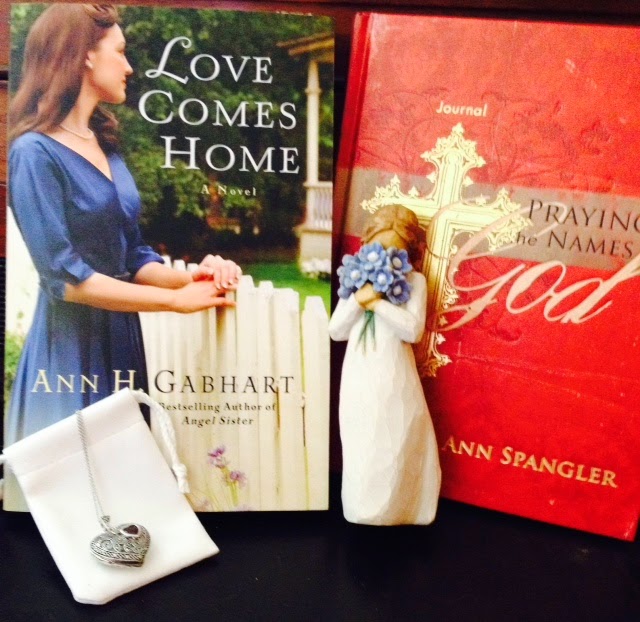 It's always so much fun to celebrate a new release with a giveaway contest because I get to hear from so many of my reading friends – you. Thank all of you who have entered already, but here are the details for those of you who haven't seen my newsletter. If you want to be on my e-mail list and among the first to hear book news or about contests, you can sign up here Ann's Newsletter.
No big prizes, but I hope you'll think they're fun. First prize winner will get
the choice of the Marcasite Filagree and Garnet 18″ Heart Pendant or the "Forget-me-not" Willow
Tree figurine along with the winner's choice of one of my books. The necklace has a small heart in the larger heart. Once you read my new book, Love Comes Home, you'll know why I chose these prizes. The second
place winner will get whichever prize is left along with a choice of one of my
books. Then because I'm one of those "never win" people, if you tell
me that you never win in contest drawings, your name will go into a special extra
drawing for the Praying the Names of God Journal and the choice of one of my
books. Hardly anybody has told me they never win yet, so the chances in that drawing are very good that you might end up in the winner's circle.
You have to be 18 to enter and you can enter by sending me an e-mail at annhgabhart(at)yahoo(dot)com or by leaving a comment on one of
the posts here in June. I'll draw for the winners on July 1. To make things more fun, you can tell me a story about a family homecoming or special family memory. The stories aren't necessary to win. Just fun. Many of you have already entered the contest with a comment on the last post. I thank you for that. And some of you have shared stories. I've enjoyed reading them, and I'll be posting some of them here on One Writer's Journal later this month.
Now, for the blog only contest. You friends here are so kind to read my this and that posts and to leave me encouraging comments that I've got to have a giveaway just for you. Those of you who entered the other contest by leaving a comment on the previous posts will have to come back and comment again to be entered in the blog contest. In fact, every time you leave a comment on a new post for the rest of June, you'll have a new entry and chance to win. Remember to leave your e-mail or a way to contact you when you enter.
You think I should throw in some mystery picture posts for you to try to guess before the end of the month? I just posted a picture of a snake that looks purple on my Facebook Page, but I think it was really just a black snake with the sun making it look purple. There's been quite a discussion about what kind of "purple" snake it is. Still a mystery, but not one any of us are doing much good figuring out.
So what can I give away? I know. How about a copy of my new book? An autographed paper copy if you live in the USA or Canada and an e-book copy if you live overseas? That's original, isn't it? LOL. I'll draw the five winners early July 1.
Also, remember if you're on Goodreads you can sign up there too to win one of five copies Revell Books is giving away. It's fun giving books away. For my giveaway, if you'd rather have a different title (one of mine, of course) that can be arranged. Remember, if you enter, you have to leave a way for me to be able to contact you in the event you are one of the winners.
Thanks to any of you who downloaded Angel Sister or Small Town Girl while they were at a special price. Angel Sister was in the top 100 of Kindle titles today. Hope that means a lot of new readers are headed to Rosey Corner to meet my characters.
If you've read any of the Rosey Corner books, which character is your favorite?