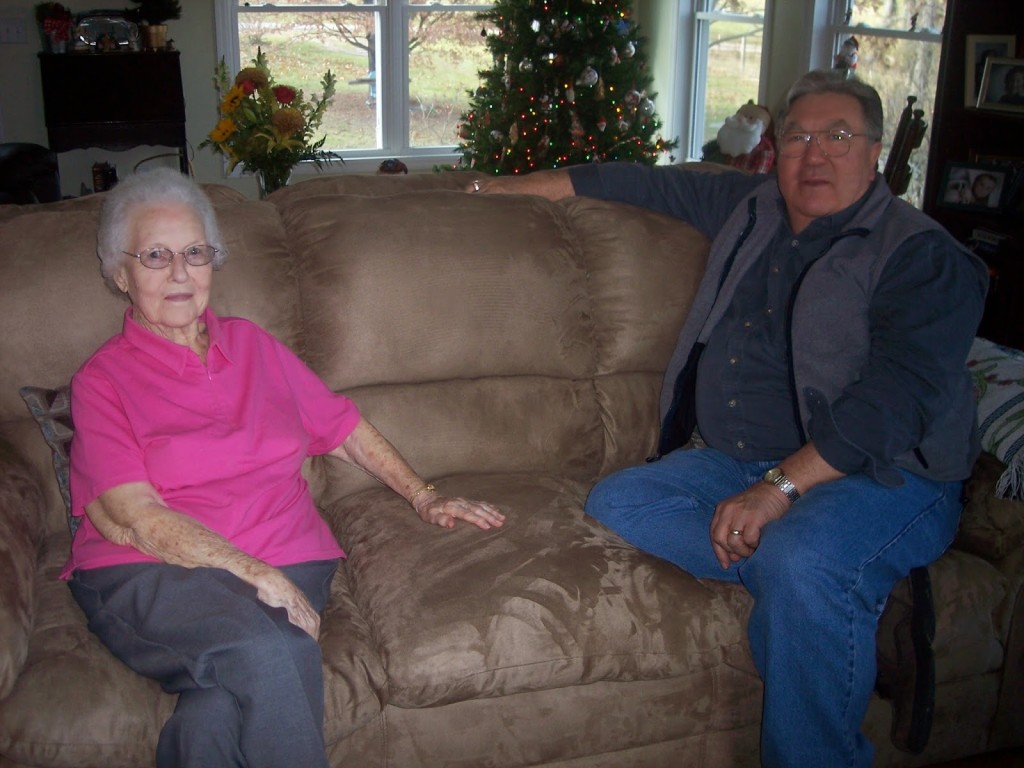 A beautiful day for a funeral – you might be wondering if you read that wrong. But that's how the preacher started the funeral service for Darrell's aunt today. Annie Pearl needed a few more weeks to reach her 96th birthday. This picture was taken when she was 91 on one of her rare visits to our house.
She was a wonderful, loving Christian woman. The kind of woman that you know ran into heaven with the biggest smile ever on her face. Her three older sisters moved on up there ahead of her. Her parents and her husband and her son all already made the journey home. Her closest relative was one beloved granddaughter. She had many nieces and nephews that she enjoyed talking to and hearing about the great nieces and nephews and the great-great ones too. Let me think. There were even some great-great-great nieces and nephews. Families have a way of expanding, but we all could look to Annie Pearl and admire her steadfast faith and courage in facing some extremely hard times in her life.
She had been married a while before World War II came along, and her husband joined the Army and was shipped overseas. She moved into an apartment and got a job at a factory in town the way so many soldiers' wives did. And then she watched the mailbox for letters. Sometimes they came in bunches and sometimes he got her letters the same way. He was in some of the worst fighting where most of the men in his unit did not return home. That stayed with him the rest of his life.
Annie told the story about him coming home. She was expecting him on a certain day. She'd rolled up her hair and was planning to have the perfect homecoming for him. But he got an earlier train and got to town in the middle of the night. That was back in the days when front doors weren't all locked and so the hallway door that led up to their apartment was open. He ran up the steps to knock on Annie's door. She always laughed when she told about her hair still being in curlers. I doubt he noticed.
I used hints of that homecoming story in my new Rosey Corner book, Love Comes Home, that releases July 1. Not the same, but the early arrival part.
Annie Pearl's "going home" service was lovely as we celebrated this good woman's life. She gained much as she entered her eternal reward. We lost much when she suffered a stroke last week. She wasn't able to speak after that, and slowly she continued to drift away until finally she ran on home to her own special homecoming.
We'll miss hearing all her great stories about the family. We never listen enough.