After
all, I don't see why I am always asking for private, individual,
selfish miracles when every year there are miracles like white dogwood.
~Anne Morrow Lindbergh
Every year I love walking to an area on our farm to see some of those miracles of nature. I've already shared a few of the photos I took on my Facebook page. I just took my phone camera because I didn't really plan to go wildflower hunting when I started out. But the day was glorious. It was Easter, but my family had visited the day before and what better day to give yourself the gift of nature than on Easter. Hunting flowers was better than hunting candy filled Easter eggs. At least, for me. I'm sure my grandkids would have disagreed. 🙂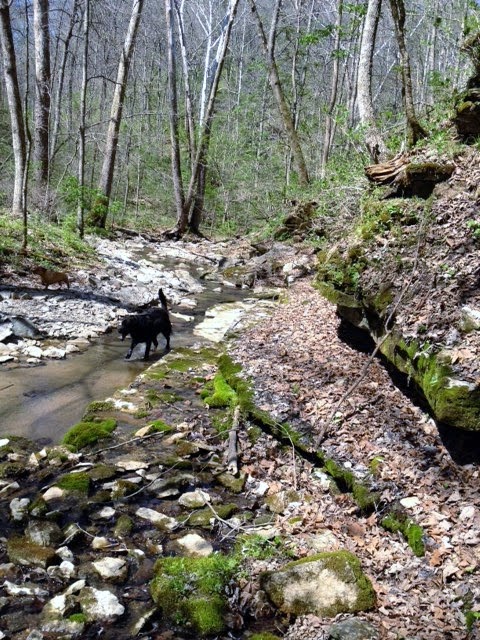 So, Oscar and I, along with the two little neighbor dogs, took a hike down the cliff. I found flowers alongside the creek bubbling over rocks. The sun glittered off the clear water and rocks. The dogs didn't pay much attention to the flowers, but they did enjoy all the interesting creature smells and dipping into the water for a cool down now and again. I managed not to dip more than my hands and an occasionally clumsy foot into the creek.
The human spirit needs places where nature has not been rearranged by the hand of man. ~Author Unknown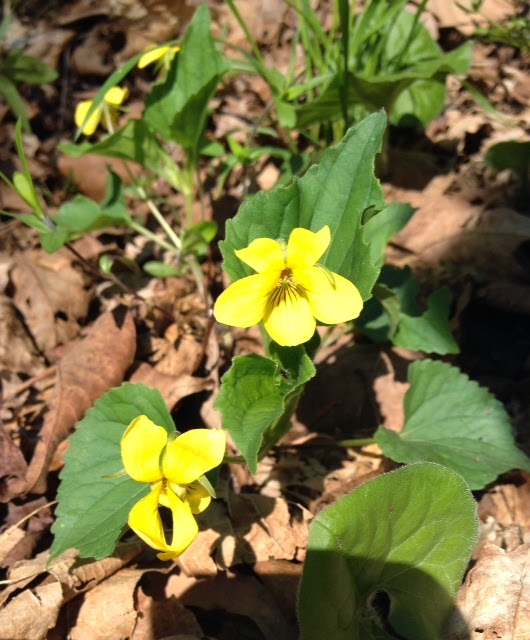 That's the kind of place this is. Not an easy place to get to, but one that renews my spirit. And I did find flowers. Trilliums, larkspur, bluebells, rue anemone, yellow violets, bellwort, Dutchman's breeches, woods' poppy, squirrel corn, ginger root, Jack-in-a-pulpit, and more. And then I went a little nuts and even took one of those selfies. The creek and me. 🙂 The surprise is that I didn't delete it.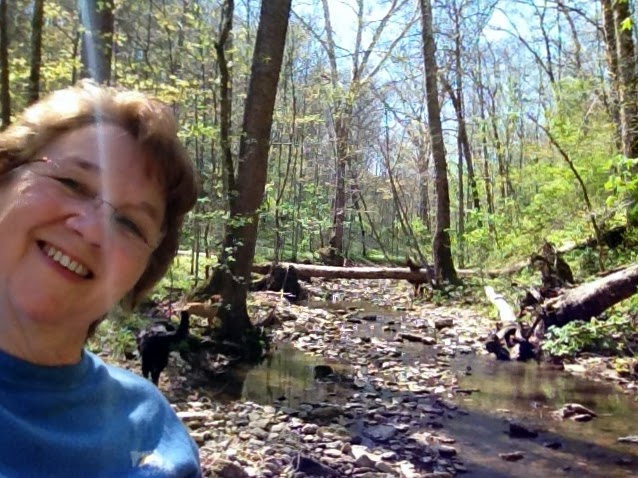 Every time I get to walk down to the creek or on any of my walks, I feel blessed to still go hiking and to see the gifts of nature that abound all around us.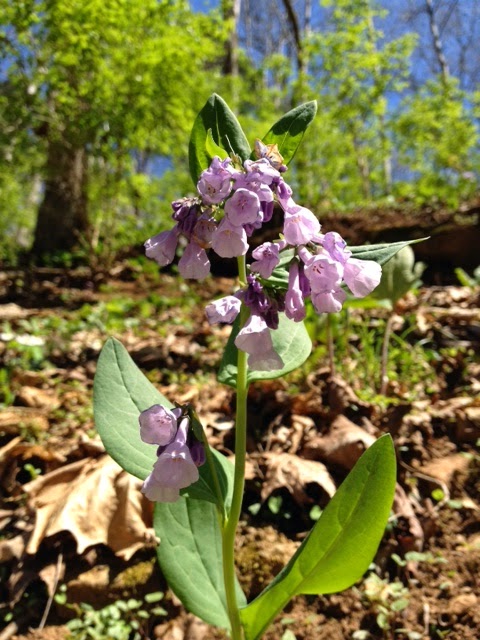 You don't have to hike down into wilderness areas to see gifts of nature. They're all around us. The sun shining down through new leaves. Birds singing in the trees. Dandelions making sunspots in the grass. What gifts of nature do you love most?

Happiness flutters in the air whilst we rest among the breaths of nature. ~Kelly Sheaffer