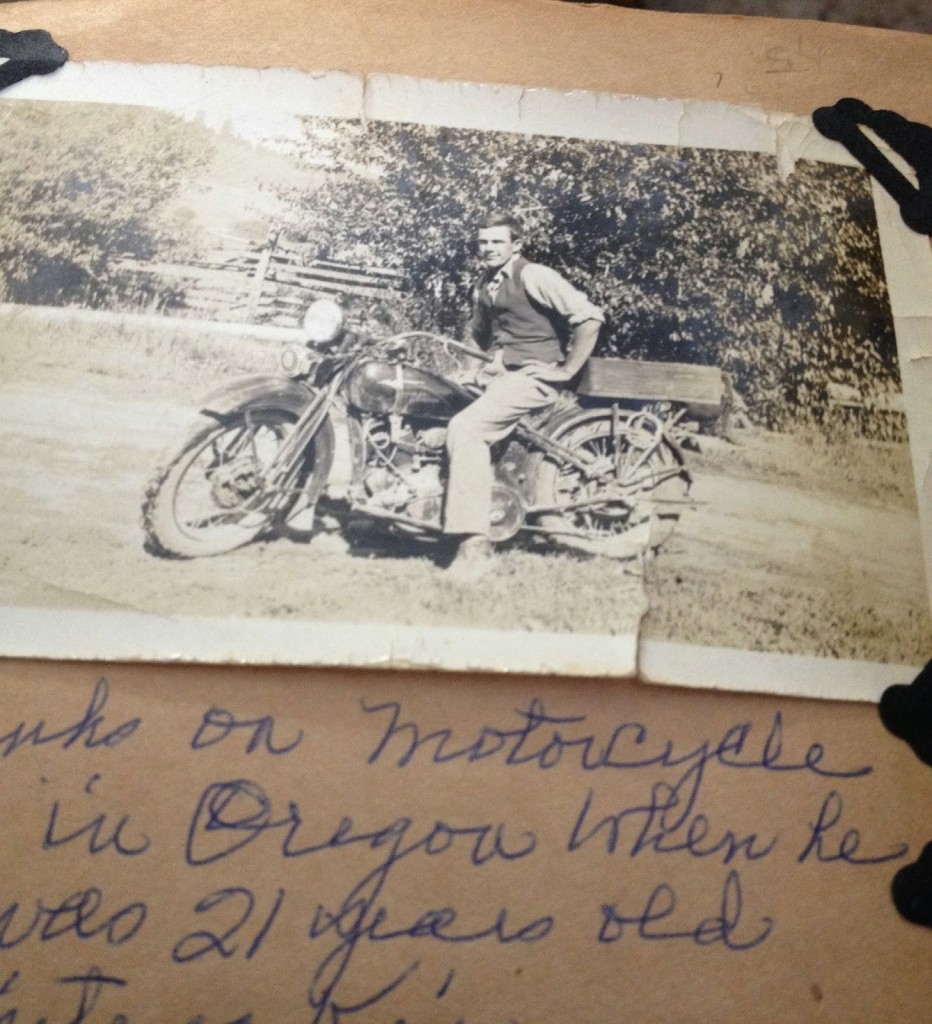 "Life is a journey; photography is thy shepherd." (Destin Sparks)
On my Facebook page I have certain things I do on different days of the week. Mailbag Tuesday. Shaker Wednesday. Sunday morning coming down when I give my Facebook friends a glimps of the world I see outside my window. Friday, I do my best to post smiles all day long. And Thursday is Throwback Day when I, along with many others on Facebook, post old photos. That has me looking back through old photo books and snapping pictures of pictures. The one above is from my mother's first photo album. That photo album is about the size of one of the bigger paperback books and has a wooden cover attached together with leather strips. The front cover has a piece broken off it. It's been that way ever since I can remember.
In the album, Mom has attached the pictures to the pages with those black corners. She has photos of her dating days with Dad and also shots posed with other friends from when she was in school. It's a stroll down her memory lane. Those are memories she has lost now, but there in her photo album, they live on in the pictures and in the notes she wrote under the photos.
This picture is my dad, years before he met Mom. He was 21 years old and had ridden his motorcycle all the way across country to Oregon to visit cousins there. Mom would have been 11 or 12 when this photo was taken since she was almost ten years younger than Dad. She didn't meet him until she was 18 and he was 28. They met when he was on a date with a friend and she was with a different fellow. She used to say that she took one look at Dad and knew he was the man she was going to marry. I don't know how long it took her to convince Dad of that, but they did start dating right away. And they did get married the day after she graduated from high school.
"Look at the people in the very old photographs! They are gone forever but they still can give us messages with their eyes, they still can touch our hearts with their looks and they still can give us courage with their standing upright!" (Mehmet Murat ildan)
I look at Dad in this picture and I see a young man I never knew. A man willing to take off across the country with a map and a little money in his pockets in spite of his mother in tears begging him not to go. He went. He slept on the ground, shivered in the cold, sweated in the heat, and made it to Oregon. It was a highlight of his life and I wish I had asked him more questions about that journey. It was a journey off the farm and toward independence. He came back to the farm after his summer in the west, but I daresay he was never the same boy who rode away on that motorcycle.
There are things that I can never know about how my parents were when they were young, but I can see glimpses of them in those old pictures and imagine how it might have been for them. I'm sure it is the same for my children. Stories never told in words, but only glimpsed in a face staring out of a photo.

"When someone you love becomes a memory, that memory becomes a treasure."


Do you have treasured photos that make you remember?
Do you wish you'd taken more time to talk about back when with your parents and grandparents before it was too late?