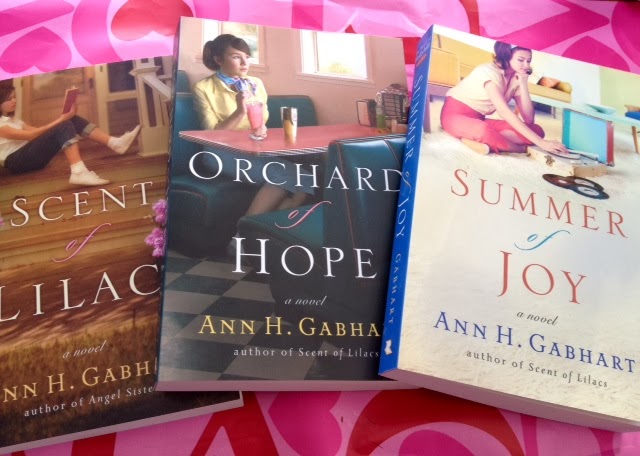 Celebration time!
For a writer, there's not much more exciting than seeing a new book coming out for readers – even when that new book is simply one dressed up in a new cover. With the re-release of Summer of Joy, in a few weeks, my Heart of Hollyhill books will once more all be in print again and inviting readers to come back to the Sixties to visit Jocie and her family and friends.
Joy in the Journey
Some of you might remember the Sixties. Some of you might be too young for that. But isn't it great that books can take us to other times and places and let us experience "joy in the journey?"
Life is a journey and you can travel through a year of life in Hollyhill with Jocie. Secrets are uncovered. Strangers show up. Joy is awakened. Troubles come. Love conquers. Life happens in this Small Town, America story.


Celebration Prizes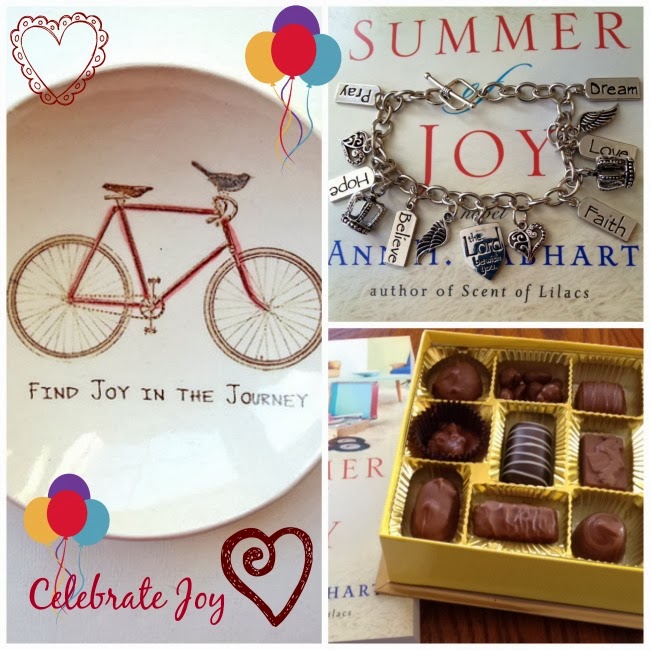 And so I'm celebrating by having a giveaway with a few fun prizes. First prize winner will get that cute charm bracelet that Jocie might have picked out for you along with an autographed set of the Hollyhill books that includes Scent of Lilacs, Orchard of Hope and Summer of Joy. Second prize winner also wins a set of the Hollyhill books along with the ring dish with the bicycle and Joy in the Journey saying. (Jocie loves the bicycle.) And then there is the drawing for those of you who say you "never win." That prize is a box of chocolates and the winner's choice of one of my books. I've only gotten a couple of never win entries. Everybody must either be winners or on a diet! So be sure to tell me you've never won if you want to be in that drawing. And if you already have the Heart of Hollyhill books, it's fun to win books for a reading friend or perhaps your church library.
I also invited entrants to share a Valentine story of love. You don't have to tell a story to enter. You just have to send me a message at annhgabhart(at)yahoo(dot)com or leave a comment here (with a way to contact you) on my blog before midnight EST February 28, 2014. People who comment here will get one entry in the drawing for the prizes listed above, but I'll have a special extra drawing for my blog commenters with two winners getting their choice of one of my books. Each comment on a new post here on One Writer's Journal before the deadline will get you an extra entry in the blog drawing. I do appreciate those of you who drop by to visit me here. And of course, feel free to leave those Valentine stories.
A Valentine Story
Here's a cute story I received after I sent out news of the contest in my newsletter last week. R.M. said, "Back in 2001, one of my coworkers came in the office where I was working and said someone was there to see me. I was excited! Whoo hoo!! Flowers for Valentine's Day! Nope, lo and behold, a Barbershop Quartet!! Right there in the main corridor. They handed me a long stem red rose and sang "Let Me Call You Sweetheart"!!!!! That was the best Valentine's Day ever. Love was in the air!!!!
Now, today I am picking up balloons as I already have the heart-shaped cake and cookies to have my granddaughters over for a Valentine's Day Party!!! Love is still in the air!!!"
I love R.M.'s enthusiasm for Valentine's Day love. Love is in the air in Summer of Joy too. So share some love whether about romantic love, family love or even the fun of all those little Valentines given away at school parties across the nation. "Be Mine, Valentine." "Yours till Ivory Soap Sinks." "Roses are red. Violets are blue. Sugar is sweet and so are you." What silly Valentine rhymes do you remember?
Next Time
If you don't get my newsletter and would like to, be sure to let me know or sign up here on my FB author page. And come back Wednesday night or Thursday. Over on my Facebook author page, I'm getting suggestions for naming my heroine's dog in my work in progress. So far 89 different names have been suggested. I'll share those results next time on One Writer's Journal.
Thanks for the Prayers
Last, but certainly not least, I very much appreciate all your prayers and concern for my mother.
We had a rough week with taking her to the facility Monday and then spending a
night in the ER after she fell on Wednesday, but today she seemed to be settling in.
She even told one of the aides that we were her daughters and she knew
my sister's name. Prayers are powerful and I thank you that you're
willing to plug into that power for my mom.