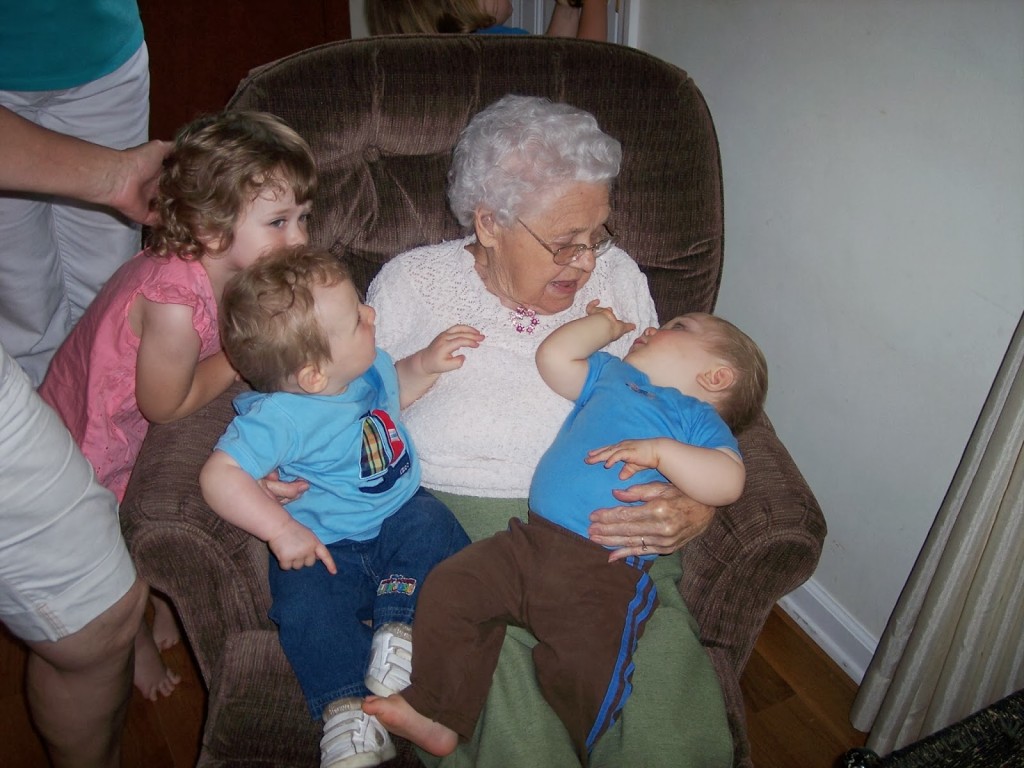 Here's Mom about five years ago with a lap full of great grandbabies. She was beginning to have problems with her thinking then, but they were things you just passed off as getting older. Dementia was actually raising its ugly head, but we either didn't recognize the symptoms or didn't want to see them. I, for one, never thought Mom would have memory problems. I thought she'd be one of those little old ladies who soldiered on with some physical problems but that she'd be remembering things I'd long forgotten on her hundredth birthday.
Alas, that didn't turn out to be the case. Dementia invaded her mind and stole her life as she'd always lived it and would have wanted to finish living it should she have had that choice.
But now she can't remember. She can't choose. And while in the picture above, she was having a good day but perhaps too big a load in her lap, last night she had a bad night. She fell at the Alzheimer's home. My sister and I went down to see about her and decided she was probably okay. We signed releases with the ambulance personnel and took her back to her room to bed. It's a long walk from the front of the building to her room. She barely made it on foot. And then once in bed, she was crying in such pain that we changed our minds, bundled her up and took her to the emergency room where they x-rayed, scanned and treated her with great care. The other times I've been in the ER with her were decidedly unpleasant, but this time they addressed her pain, were quick with the tests, and the several hours we were there weren't so bad. She slept most of the time and my sister and I talked about how sleepy we were going to be as we watched the clock spin through the wee hours of the morning.
All the tests came back normal, but in the process of reviewing the paperwork, I discovered a mix-up with Mom's medicine. The prescription that is supposed to help with her agitation wasn't being given the way the doctor had prescribed it and the way she'd been taking it for a few months. The orders he'd written for the home weren't clear enough, and they had cut her dosage by two-thirds. Plus other over the counter aids we were giving her, at the doctor's verbal instructions, weren't being given because the doctor had not ordered those in writing. All that is straightened out – we think.
On our visits to her before her fall, she seemed happy enough and didn't mention us taking her home. But she hasn't been sleeping and not eating very much either. There is an adjustment period for a move like this. I know that. But it is still very difficult to stand back and not do something to make things better. Of course, there are the prayers going up for her and for all of us, her family. You can't begin to imagine how I appreciate you praying for Mom that she'll have peace there in the new place. Looks as if she's needing more prayers than ever. We are going down for family night tonight. Perhaps the next time I write about Mom, it will be a happier post.
Meanwhile, if I can stay awake after the all-nighter at the ER, I'm hoping to send out a Valentine newsletter tomorrow with info on a new prize giveaway to celebrate Summer of Joy back on the market dressed in a new cover. If you're not on my newsletter list, you can sign up easily by clicking here. You can also follow my posts here on One Writer's Journal by subscribing to the posts. If you enter your e-mail address, the posts will show up in you mailbox.
Thanks so much for reading and thanks so much for all the support and caring messages you've give my family and me over the past few days. Prayer is powerful!