Fifty years ago Beatlemania hit America. When I look back on it now, you might wonder why that song "I Want to Hold Your Hand" took the country by storm. The Beatles were already hitting the music scene in England, but here in America, the record companies were reluctant to put out their songs. Maybe because those songs were so different. But then their popularity kept growing and Capital Records rushed out a release of the song. In the first three days after it was released, it sold a quarter million records. Many adults wondered why, but kids when crazy for it. Radio DJs played it over and over. The song was just so different from the other songs at that time.
The Beatles were just so different. They were crazy young, energetic, willing to do things no singing group had done. Bob Dylan caught the reason why when talking about the Beatles popularity. He said, "They were doing things nobody was doing. Their chords were outrageous, just outrageous, and their harmonies made it all valid." Outrageous is a great way to describe them at that time.
The lyrics of their early songs were super simple. They sounded like songs a teenage boy would sing. They became songs lots of teenagers sang along with the records. The Beatles first big hit in England was "Love Me Do." That became their second number one hit in the America. And a lot of older people wondered why. Cynthia Lowery of The Associate Press expressed the feelings of many critics and adults. "Heaven knows, we've heard them enough. It has been impossible to get a radio weather bulletin or time signal without running into 'I Want to Hold Your Hand.'"
I remember being one of the kids who sang along. The Beatles never made me swoon or scream. I wasn't that into being a fan of any singer. I was busy scribbling in my notebooks at that time. But I do remember thinking they were fun. They made music fun. I didn't spend my money on 45s. I had to buy film for my camera and ink for my pen. But my sister bought a lot of the popular records and so I got to listen to them anyway. I don't remember for sure, but I think a 45 single cost about a dollar. We had a record player where you could stack on the records, and it dropped the records down one at a time. That was jukebox time in the restaurants too, but my family didn't spend any time in restaurants. We ate at home. When I started dating, we'd go to drive-in restaurants and the music would be piped outside. And then I got married way too young, and pop music moved way down the list of my priorities.
Things change, don't they? Kids grab onto music the older generation hates. The interesting thing about that is the older generation did the same when they were kids. Kids now do the same. Each generation has its defining music. The Sixties certainly was a time of music upheaval. And you might say The Beatles ushered in a lot of that upheaval. We'd had Elvis, but now we had groups that harmonized on silly lyrics and jumped around and exploded with energy. They were just so young and they made us celebrate being young too.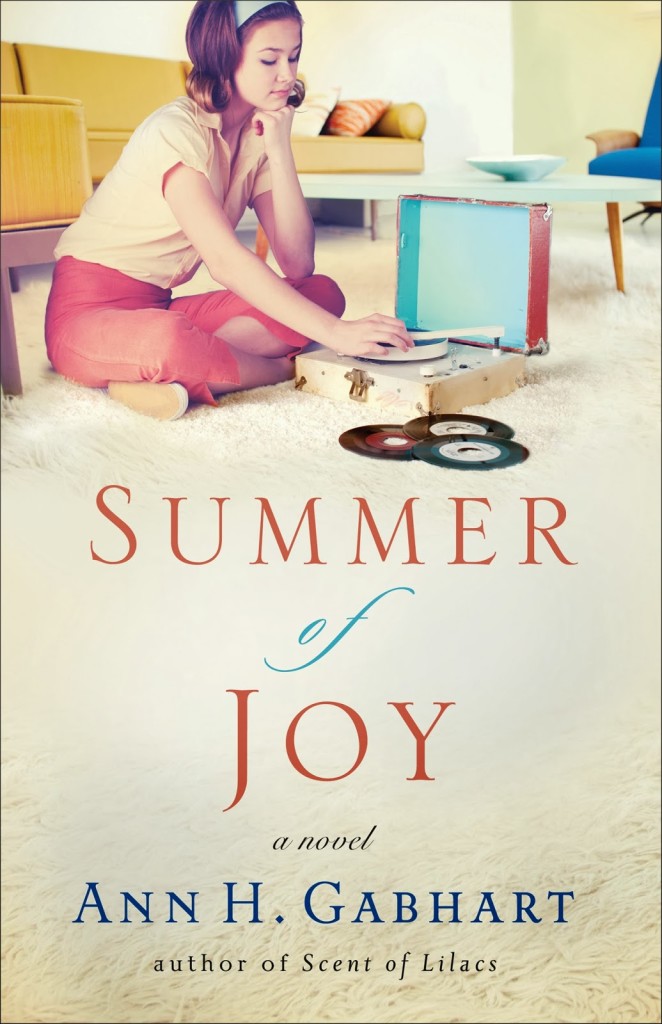 That's how Jocie is in my Heart of Hollyhill series. Here's the new cover for her book, Summer of Joy. On the cover, she's trying out some of the 45s in Leigh's apartment. Maybe even the song "I Want to Hold Your Hand." Right now you can throw your name in the hat on Goodreads for the chance to win a copy of Summer of Joy. Just click Goodreads Giveaway. Plus, I'm coming up with prizes for my own celebration giveaway coming soon. Watch for my newsletter next week with details. If you aren't signed up for my occasional newsletter, it's easy to do. Just click here, Ann's newsletter, and enter your name and e-mail. I promise never to share that with anyone. I'll post details here too and on my website News and Events page.
And if you're old enough, tell me what you remember about when 45 records ruled. And if you aren't that old, tell me what you think about the Beatles. You might know more about those older Beatles, but it's those young teen Beatles with the shaggy haircuts adults at the time hated that I'm remembering today.