I believe God created sports for a good reason. It's recreation. It's something that we enjoy. It teaches us a lot as well… I believe God is a sports fan. ~Luke Scott
I don't know about that, but I do know I'm a sports fan. Mostly I'm one of those armchair fans who watch from home with with my eyes riveted on the TV screen. Oh, I talk to the players, encourage them to steal the ball, make a shot. Sometimes I yell at them to rebound. Not that they can hear me from my spot on my living room couch. But I have to cheer them on, admire a great pass, and get excited about a fast break dunk.
A rabid sports fan is one that boos a TV set. ~Jimmy Cannon
Okay, I might even boo sometimes. Never at the players on my team, but sometimes at those referees who obviously can't see!! LOL.
We are inclined if we watch a football game or a baseball game, we have taken part in it. ~John F. Kennedy
It can be hard work being a fan who really gets involved in whether his or her team is playing well. Some of you out there probably think it's crazy to be a sports nut. Some of you are probably a sports nut over your favorite team the way I am over Kentucky basketball.
It may be that all games are silly. But then, so are humans. ~Robert Lynd
Silly or not, I've been following Kentucky basketball since I was a young girl. I listened to every game on the radio even though my parents never bothered to listen. But there I was with my ear pressed up against the radio listening to Caywood Ledford call the UK basketball games.
I've been to a few games over the years, but it had been a long time since I'd sat in Rupp Arena to cheer on the team. Then our son and daughter-in-law gave us tickets and so we climbed way up to Row Z in the upper arena and took in the ballgame last night. Actually, even though we were up high in what some call the nose-bleed seats, it was easy to see the action on the court and it was great fun to yell and have twenty thousand other nuts yelling with me. And we did, indeed, boo the referees. Roundly!! But we also cheered on our young team. We groaned when they missed a shot. We yelled defense when the players were working hard to get their first lead. We stomped and clapped and yelled with the feeling that we mattered to the outcome on the court. And it was fun.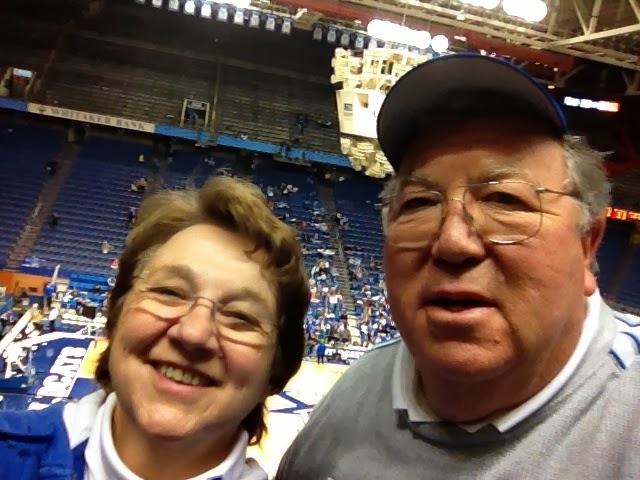 Going to a Kentucky basketball game is an event for many fans. Tickets are not easy to come by in the lower arena. This game before the students start back to school is when many "regular" fans, who rarely get to see a game in person, have more chance at getting a ticket. It was easy to see that attending the game was an event for many people because of how everybody had their phones out taking pictures like they were at a tourist attraction. And I guess that's where we were. A sports attraction. So we took a "selfie" too. If I look like I'm having more fun than my husband, that's because I am!!
How about you? Are you a big sports fan? And what team gets your blood pumping?
While looking for quotes for this post, I came across this one. What do you think? A lot of truth here, isn't there?
Andre Dawson has a bruised knee and is listed as day-to-day. Aren't we all? ~Vince Scully