No one finishes this race, but everyone gets to pass a baton, and a good hand off means that you will not slow anyone down during the hand off, especially any one of the billions who will live after you. Everyone today is an accumulation of the 106 billion batons that have been passed forward for thousands of years. So make your baton count.
(http://www.basicknowledge101.com/subjects/inspiringquotes.html)
Passing the Baton
Today, my husband, who has been singing with the Patriot Quartet since 1997 sang his last concert with them as their first and only bass. It was a sad day for me because I hated for him to quit the group. I think they have always had a great sound. (You can check out their music at the Patriot Quartet's website or see some short video clips of their concert today on my Facebook page.) But Darrell felt strongly that the Lord was leading him to step aside and pass the bass singing baton on to a younger man who has a great voice and will be a fine addition to the Patriot Quartet. They will continue their ministry and Darrell will step into new ways to minister, still singing, but no longer with the Patriots. And so the year begins a new chapter for him as he moves forward.
Singing Families
When a singing group has been together as long as the Patriots, the members and their families become something like extended families. That has been especially true with this group since for several year we traveled to concerts in a big old bus that gave us hours and hours to share stories and songs. In fact, it's partly because of that big old bus and all the rides on it that I wrote Angels at the Crossroads. That book, the only nonfiction book I've written, is the life testimony story of the first tenor in the group after Darrell began singing bass with them.
Angels at the Crossroads – Jerry's Story
Jerry Shepherd has an amazing testimony. As a young man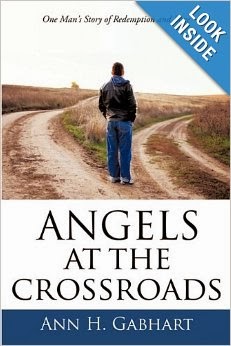 he become involved in drugs and alcohol and eventually, at age nineteen, was sentenced to prison for murder. While he thought his life was over, the Lord wasn't through with Jerry. He gave him a second chance by putting people in his pathways to help him start making right choices and following the right roads. Jerry couldn't change what he'd done, but he could accept the Lord's forgiveness and try to live for Him going forward. Jerry always wanted to write his story and so when we were thrown together on the bus and I had recently had my first inspirational novel published, it seemed to be meant for me to write his story. I wasn't sure I could since I'd never written anything except fiction, but the words flowed so easily that it had to be the Lord helping me write Jerry's story. The book didn't find a traditional publisher, but it is available on Amazon and other internet sites. Here's a bit of a review just posted yesterday on Amazon. "Hope, forgiveness, and God's love is what helps us all through difficult times just as Jerry finds out. If you face a crossroads in your life, Shepherd's inspirational journey may help lead you down a new pathway to a life filled with compassion and love."


Jerry is now pastoring a church and doing solo appearances to share his story in song and words, but he will always be part of our singing family just as the members we said goodbye to today will be. Batons are passed and new chapters of life are begun. But that doesn't mean we forget the good times we've shared. Sometimes it's good to look back through some of those old chapters of our lives.
Authors – the Old and the Young



One of those life chapters I've shared with all of you here on One Writer's Journal is that of my great-niece, Kaelyn, who was diagnosed with leukemia when she was five years old. The church where the Patriots sang today is pastored by Kaelyn's father, our nephew-in-law. After three long years of treatments, Kaelyn was released by St. Jude. She has to go back periodically to be sure all is still well, but she now has hair. She doesn't have to wear a mask when she comes to church the way she did the last time the Patriots sang at her church. She can go to public school without the fear that every cold germ will land her in the hospital with little way to fight off infection. On that hard journey of chemo treatments, she never let go of the Lord's hand. She is a special child with a big heart and a sweet spirit. I know many of you prayed for her and rejoiced when I posted about her "no more chemo" party last year. (Here's the link to that post if you missed it last year.) Anyway, I thought you might like to see her picture with her great smile and nice long hair. She told me today she'd just written a book with ten whole chapters for her little brother. He loves Ninjas, so she came up with that type characters and made it funny. Here's a photo of the new author with the old author.
On to the Next Chapter
Chapters of life start fresh all the time. May your next chapter be a good one.