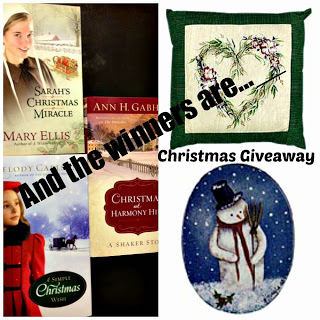 Christmas Contest Giveaway
My Christmas contest has been great fun as all my giveaways because of all the reading friends who send me hellos and stories. For this contest, you shared your best and/or worst gifts, both the ones you gave and the ones you received. Some of the gifts really stunk, but some were so loving that reading them touched my heart. Maybe I'll get inspiration for a new Christmas novella someday from all your stories.
Who Never Wins?


And of course it's always great fun to pick winners. I just wish I could send you all a prize, but I do hope you had fun with the contest whether you won or not. In Eleanor's e-mail she said, "I never win and that's no story!" But now the story has a different ending, and she can't say that any longer. She won the snowman pin and her choice of one of my books. A lot of you said you never win and maybe next time it will be you celebrating your first win.
First Prize Winner


Cathy G is my first place winner. She gets the pretty pillow and her choice of one of my books. Cathy had a most unusual Christmas gift story as she shares how she has managed to find homes for over 300 rabbits in the last fifteen years and saved them from being euthanized at shelters. She says,"I think my best gift is the gift of life!"


Second Prize Winner


Cynthia from Maine is the second prize winner. She wins the Christmas novellas. She sent a gift story with her entry and tells how she tries to help out her daughter and son-in-law because they gave her the best gifts ever, her three grandchildren, "two precious girls adopted from China and one biological grandson who looked so much like my husband when he was a baby."
Here's her best gift given story. "I think that the most
sentimental and nostalgic gifts I gave was when we had two of my husband's
grandparents old stuffed chairs stripped and redone (the wood) and then brand
new upholstering done to make them clean and fresh for our
daughter and her husband's house. It took months for the
woodworker to get the wood cleaned and back to the beautiful mahogany and
walnut that they were and then from his shop we took them to the upholstery man
and chose fabric to match their home and then he finished them off with a
little pillow for each chair inscribed to them from us. What a time we had getting them
transported over 50 miles to my nephew's house (where we did Christmas that year) and hidden until gift
time. But the surprise was worth all the time it took and the effort of
hauling them here and there. To this day, they love their chairs.


Just Because Winner


I like picking a winner just because and this time I picked Barbara G who is recuperating from some surgery. Don't know yet which book she'll pick, but hope it will make her feel better.
One Last Christmas Gift Story


Virginia shared a story with me just this week that I simply have to share with you. Virginia comes from one of those complicated family backgrounds that children are sometimes thrust into. Because of that she didn't get to know her brother until they were both adults. But once she met him, she knew exactly how to make those family ties strong. Here's her story. "The best
gift I ever gave…was to my birth brother. I had missed growing up with
him totally….so I went to Cracker Barrel where they sell the old time toys
and bought him several and wrapped them individually. One was for when he
was 5, then 6…until he ran out of gifts…one was an old time top, etc. He cried. In his 50s then, but he cried. He is the greatest
brother…"


Giveaway Blessing and Thanks


Thank you all so much for blessing me with your stories. I've tried to share forward some of them in the last month, so if you haven't read them, I think you will be blessed too if you scroll through the December posts and read the stories shared with me. Some might make you smile. Some might make you tear up. Some will show the true spirit of Christmas giving.
A New Contest in March
I'll be having a new contest in March to celebrate the re-issue of Summer of Joy. So stay tuned and watch for that.
May you all have a blessed and very happy 2014.